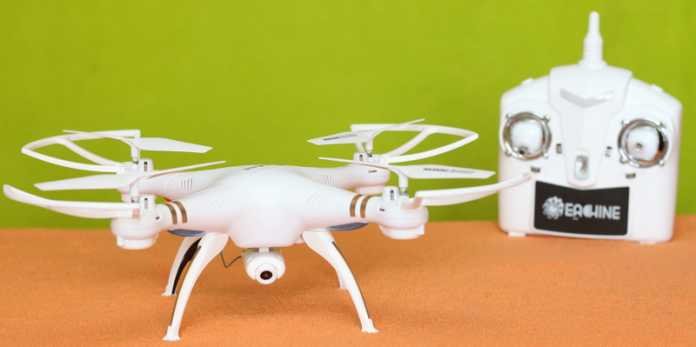 Eachine E30W – The mini Phantom 3 Pro
Eachine is a very popular quadcopter and FPV accessories manufacturer among RC enthusiasts. Over the time, they released many cheap models like this Eachine E30W but also some pretty cool racer quadcopters. I also tested and reviewed their 7 " FPV screen which proved to have good quality at reasonable price.
If you are a Pro, you should probably skip over this Eachine E30W review, because this remote controlled toy is mainly dedicated for newbies.
Sponosored AD
The Eachine E30W was released approximately in the same time as I received my DJI Phantom 3 Advanced quadcopter and it was fun to see how these Chinese guys cloned the design of a $ 800 into a $50 quad. Eachine announced the E30 series in four variants but at this time it is available only in two, without camera (E30) and with WiFi FPV camera (E30W). The price difference between these two models is about $20.
Contrary to other WiFi models which can be controlled through smartphone APP, this E30W allows only WiFi real-time image transmission (at least this is what I understood from the specs). Anyway, in my opinion the classical control way (physical RC) is more friendly and usually offers better range.
Eachine E30W features and specs
WiFi real-time image transmission;
Video recording;
Headless flight mode;
Adjustable flight speed rates (40%, 60% and 100%);
Low voltage battery protection;
Up to 70 meters control range;
About 6 minutes play time;
Motor to motor size (MTM – diagonally): 230mm;
Total weight: 130 g.
Eachine E30W quadcopter review with pros and cons
Firstly, I have to tank James from Banggood who offered me this product in order to test it and write a honest review. As usually, I promise that my review will show not just the positive but also the negative things of the quad. As summer is coming, I estimate that this will be my last review for a while, I need a refresh.
The package arrived in a reasonable time for overseas shipping (about 18 days). Because the box is made from a thin cardboard, when arrived looked like it traveled 10 times around the word. I was lucky to ascertain that, except some holes in the box, no other major damages happen during shipping.
Eachine E30W review – First impressions
Besides the drone and its transmitter, the package includes: phone holder, 2 pieces of spare propellers (CW and CCW), 1 set of propeller protectors, 4 pieces of landing gears, camera, battery, USB battery charger, screwdriver and user manual. Being RTF (ready to fly) everything is assembled and set-up, you just need to attach the camera and mount the landing gears.
The build quality is generally good for a $40 quadcopter. When I sow the first images with the E30W, I was sure that the designers from Eachine tried to replicate the look of the Phantom 3 and they aimed high by using gold tape stripes on the arms, which are also used in the P3 Professional's design.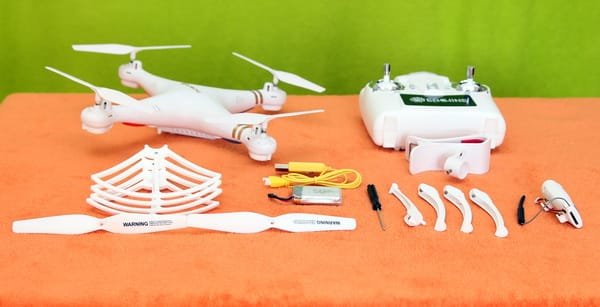 As you can see in the image below, in order to allow a higher ground clearance, the E30W drone is equipped with taller individual landing legs instead of "skids" type landing gears. The propellers are longer by 3.5 mm and slightly narrow than the Syma X5C's ones.
Under each arm there is a LED light which will help you in orientation, especially during night flights. Blue ones in the front and red ones in the rear.
In order to protect the main gears from strands of hair, grass and other kind of dust, they are covered by removable caps. I recommend before every flight to check if the propellers spin freely because these tiny motors can easily burn out prematurely if they are slowed down by this unwanted impurities.
The drone is powered by a 3.7v 550 mAh battery with micro Losi connector (Syma X5C alike) which allows an advertised 6-7 minutes of play time. Good news that the battery bay is very generous and has room for higher capacity batteries. Anyway, spare batteries are cheap, you can find one for $4 or a set of four with charger for $19.
Eachine E30W review – Transmitter
Honestly, the white remote controller looks very cheap, it doesn't has even a status LCD. Besides the two control sticks and trim buttons it has only two shoulder buttons. While the top-left button allows to take photos, the top-right one allows to stop/start video recording (probably works only with E30C!). By pushing the left stick (throttle) as a button, the speed rate can be switched between 3 values according to the operators flight skills (40%, 60%, 100%). The speed rate setting is confirmed with 1,2 or 3 beeps.
On the top of the transmitter there is a fake antenna which serves to mount the smartphone holder.
After turning ON the quadcopter and remote controller (in this order), you must push the throttle stick (left stick – mode2) up, then down, in order to complete the bind process.
In case that the quad starts to fly abnormally, I recommend first to try to re-calibrate the gyro by pushing both sticks to the lowest right position.
Unfortunately, the control range is not too spectacular, based on specs it is about 70 meters but for real I think is slightly less (only 50-60 meters). In my opinion the range can be easily extended by adding a 2.4Ghz rubber ducky antenna. With this kind of range hack I managed to obtain with another model about 30% increase.
BTW, you will need 5 pieces of AA batteries to feed the remote controller… I know it is a bit unusual 🙂
While in the specifications of the quadcopter there is nothing mentioned about the APP control, after I installed the suitable application (by scanning the QR code from the user manual) I found out that actually I can control the E30W quadcopter in 3 ways:
psychical remote controller;
through "LS-Model" APP with virtual sticks;
gyro mode by tilting my smartphone.
Eachine E30W review – Camera
The Wi-Fi camera weights about 9 g. A short wire that ends with the WiFi antenna comes out from the camera. After the camera is mounted under the belly of the drone you need to attach the antenna to one of the landing gears.
The tilt angle of the lens is adjustable in order to obtain the desired field of view allowing from shooting straight ahead to straight down (ground view).
In the back of the camera is located the micro SD slot. I tried to load a 2 GB, 8 GB and 16 GB memory card, unfortunately none of them worked. It is possible that only the E30C is capable to record on micro SD card while the E30W only on the smartphone's memory card.
Both, videos and photos, have the same resolution (720 x 576 pixels – 0.4MP). Five minutes of captured video occupied about 25 MB. The files are stored under the folder called "Drone".
Firstly, I wanted to write few words about the image quality, but I realized that is useless because at this price you can't find something truly usable in terms of image quality.
You need to install the "LS-Model" APP on your smartphone in order to access the camera's live video feed and control the drone.
Eachine E30W review – Maiden flight
To ensure that everything is OK with the quad, I tested it firstly indoor and proved to be not too good idea. It is too fast and sensitive even on lowest speed rate. For newbies will be surely difficult to fly it indoors.
Second fly was outdoor. On 60% speed rate it has good power. It can be quite easily controlled even in weak wind weather conditions.
With fully charged battery, the quad offered about 5 minutes of fun till the LEDs started to flash warning that it is time to land and recharge. I was a bit disappointed because I expected at least 7 minutes of flight autonomy. Reducing the drone's weight by removing the camera and propeller guards could earn you extra 1-2 minutes of flying time.
The fully white color does not help at all in orientation. It would be nice to have at least the rear propellers in a different color like red or black.
If you fly out of the control range or the RC is switched OFF, the motors of the E30W are stopped in about 1-2 seconds, which is good because flyaway can't occur.
Although the Eachine E30W can be controlled in 3 different ways (virtual sticks, gyro and RC), I recommend for beginner pilots to practice with the physical transmitter.
Price–performance ratio

Design and build quality

Control range

Camera

Flight time
Eachine E30W review - Final words
Definitely the Eachine E30W do what promises and even some extras. It has a nice simple design and good build quality. The control range is not exceptional but far enough for first time pilots. Being a fast and sporty flyer it is also suitable for intermediate pilots.
The APP control is a nice bonus for those who are interested to experiment new things.
Those who are interested in this nice WiFi FPV quad-copter should know that it can be ordered on Banggood website here. There you can also find most of the spare parts (receiver board, propellers and motors) in case you will need some in the future.
What I liked
Spare parts availability;
APP control;
Nice design;
On/Off power switch;
Bright LED lights.
What I did'n liked
Poor image quality;
Can't record on memory card;
No altitude hold;
Requires higher capacity battery.
Eachine E30W review – Photo gallery