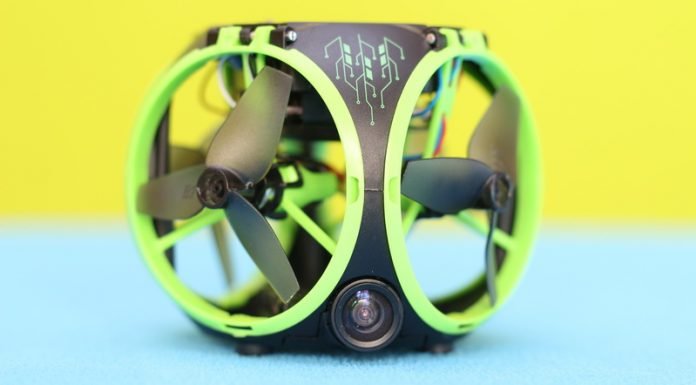 After the flying egg, here is the first flying cube. In folded position you would not think that the FQ777 FQ26 is actually capable to fly, it looks like a cube with four fans. Can be easily confused with an electronic alarm clock or something like that :D
This "Miracle" drone was announced by FUQI Models in two variants. While the FQ26-TX comes with a physical remote control, the FQ26-BNF can be controlled only through a smartphone APP. Both versions share the same features.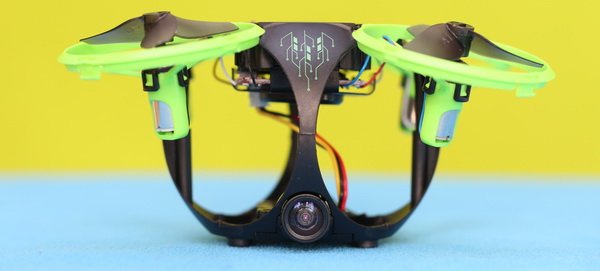 FQ777 FQ26 Miracle highlights
Futuristic cube design with fold-able "arms";
Integrated blade protectors;
6-axis gyro stabilization;
Easy maintenance (motors can be conveniently replaced);
Multiple flight speed rates;
Altitude hold and one key Take-off/Landing;
Headless flight mode;
0.3MP camera with WiFi real-time image transmission (FPV);
Built-in 450mAh Li-Po battery;
About 5 ~ 6 minutes play time;
Up to 40 meters control range.
FQ777 FQ26 drone review with pros and cons
Disclosure: I received this FQ777 FQ26 drone as part of a product review collaboration with GeekBuying. I have to underline that I don't get paid, or in any other way earn money with this review. Product specs and quality may vary according to the manufacturer's reliability, so I cannot guarantee that you will get a product that performs exactly the same as seen in my review.
Like the KaiDeng K130 Alpha, the FQ26 comes also in a small white box. Besides the aircraft, I found inside the box: Micro USB charging cable, 1 pair of spare propellers, velvet pouch bag, screwdriver and user manual.
FQ777 FQ26 review: At a glance
Folded, the FQ777 FQ26 Miracle measures about 6.2 x 6.2 x 5.3 cm and weights exactly 46 grams. Unfolded it measures 11.2 x 11.2 x 6 cm with 9.5 cm wheelbase. Made of thin plastic you need to carefully fold/unfold the arms otherwise you can easily break them.
Battery is loaded from the top of the aircraft. The removable Li-Po module is equipped with On/Off switch, micro USB charging port and charging indicator. According to the manufacturer's specs the 450mAh should allow about 5~6 minutes of flight autonomy.
The 0.3Mp camera module is located on the bottom part of the cube. Frankly, it would be smarter to install all the components (camera, battery, flight controller) on lower part of the cubic fuselage.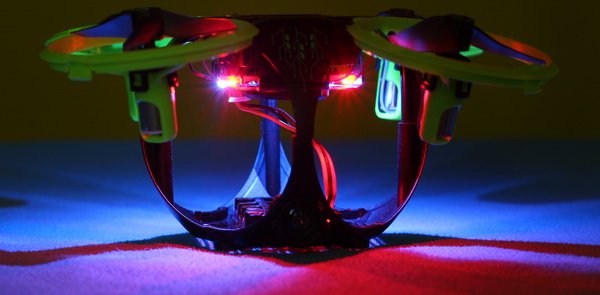 During night flights you will be guided by four internal LED lights. Two red ones on front, and two blue ones on rear.
FQ777 FQ26 review: Camera and WiFi FPV
As I previously mentioned, the camera module (Lens + PCB) is located on the bottom part of the drone. Good news! The field of view is clear. No drone parts visible in the recorded videos. By removing two screws, the camera can be dismounted (not sure if the FQ26 will fly without it).
Although the camera has only VGA resolution, in daylight offers decent image quality.
No micro SD card required, photos and videos are stored on the phone's internal memory. Three minutes of 640 x 480 @ 20 fps video (MP4) occupies about 50 MB.
WiFi FPV range is around 40 meters. Resolution is not the best but at least frame rate is quite nice, also latency.
FQ777 FQ26 review: APP control
APP is available for both popular mobile operating systems (iOS and Android). VS FPV is free to download and can be easily installed on your phone by scanning the QR code from the FQ26's user manual.
By default, the APP allows to control the aircraft through virtual sticks, just like it would be with a real remote controller. There is also the possibility of piloting through the phone's G-sensor simply by tilting the phone.
APP allows toggling between 3 speed rates (30%, 60% and 100%). If the drone starts to fly abnormally you can try to re-calibrate the gyro though the settings menu.
FQ777 FQ26 review: Test flight
From the many new drones that I recently received, my son preferred to firstly test the FQ26. I think he was curious, as well as me, to see how a cube can fly.
Starting your flight is very easy. After you connected your phone with the "VS FPV-A329DD" WiFi access point, you just need to press the "arrow up" button from the "VS FPV" APP.
First take-off ended very quickly hitting the wall. One of the propellers did not work properly. After a careful inspection I found that the propeller touches the edge of the protector. I fixed the problem by applying a little force.
Second flight was OK. Altitude hold performs very well. Even if the FQ777 FQ26 is not the fastest machine, there is a huge difference between 30% and 100% speed rates. Wind tolerance is about zero. I would recommend outdoor usage only during very calm days.
Landing is not so nice. Most of my flights ended with overturns.
Price/performance ratio

Build quality

Camera and WIFi FPV

APP control

Flight performance
Verdict
The concept of the FQ26 itself is nice, but a cube is not the most aerodynamic shape. In order to keep it lightweight, the plastic material is very thin and fragile.
Thanks to the altitude hold is very stable indoor. Camera is more suitable for having fun than for taking HQ selfie videos. Lets be fair, in the age of UHD, a 0.3Mp camera can't produce acceptable video quality.
Those who are curious to try something different, the FQ777 FQ26 flying cube can be found here: https://goo.gl/K6j5BC. Now, with 25% discount and free shipping it costs only $29.99. Unfortunately, being a new drone, there are no spare parts available yet.
Pros
Cool design;
Swap-able battery with micro USB charging port and power switch;
Altitude hold (auto-hover).
On-board camera for aerial filming;
Included transportation bag.
Cons
Very fragile;
Poor wind resistance;
Lack of spare parts.
FQ777 FQ26 Miracle review: Photo gallery