There are hundreds of racing drones capable of high speeds, so what makes the FuriBee GT 215MM Fire Dancer different? My plan is to discover and reveal in my review all the pros and cons of this drone.
FuriBee's GT series has 3 different sized models. The smallest one is the FuriBee GT 90, which is suitable for both indoor and outdoor flights. Usually, numbers in a drone's model name refer to the diagonal size in millimeters measuring the distance from rotor to rotor. Hence, the FuriBee GT 215 has wheelbase of 215 mm.
Like most of the F4 flight controller based racing quadcopters, the FuriBee GT215 is also available with 3 type of radio receivers. According to your existing transmitter you can opt between: FrSky, FlySky and DSMX receivers.
FuriBee claims that in addition of the X215 PRO's topnotch hardware, the GT215 Fire Dancer has improved durability and more powerful ESC.
FuriBee GT215 core features and specs
215mm sized full carbon fiber frame with CNC aluminum alloy fuselage;
Versatile F4 flight controller with BetaFlight OSD;
Multiple flight modes (including free-style and self-leveled);
4-in-1 BLHeli – S 35A ESC with DShot protocol;
Powerful 2306 2400KV brushless motors with 5048 three-blade propellers;
High resolution 960H CCD camera with 2.1mm 140° FOV lens;
Navigation LED strip with built-in buzzer.
Hands-on review of the FuriBee GT 215MM drone
Shortly after I published my HOLYBRO KOPIS 1 review, Karen from GearBest contacted me again regarding the possibility to test another racing drone for them.

The package arrived in 9 days. Inside the bulky, unbranded cardboard-box I found beside the FuriBee GT 215MM the following: 2 sets of spare propellers (all pink), 1 set of prop nuts, pagoda FPV antenna, and instruction guide.
The included user manual is very summary, contains only some hardware specs and how to bind with different transmitters (FrSky, FlySky or DSMX).
First look at the FuriBee GT 215MM drone
Honestly, from a drone that costs almost $200, I would expect more quality in the general presentation (packaging, user manual, quality of the materials). I had the feeling that I'm dealing with a rather cheap product. Note: don't try to manually spin the pink motors, they have very sharp edges that can easily cut your fingers.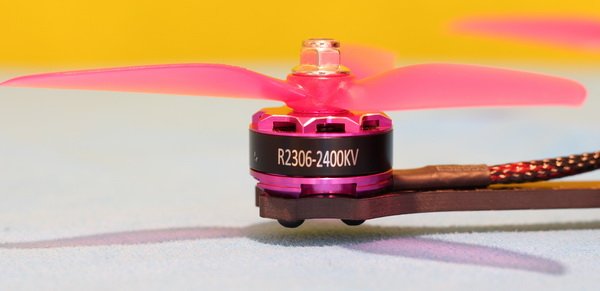 The camera comes with a lens cap which it is very difficult to use. The aluminum bars of the fuselage is too close to the lens. Actually, the entire fuselage seems too narrow. Electronic parts are partially exposed during crashes.
Instead of a unibody approach, FuriBee opted to stick the 4mm arms between two bottom plates. I'm curious how durable this design is, especially that the arms are attached to the fuselage using only one screw for each.
Being specially designed for FPV flights (through goggles), FuriBee GT 215 does not have a headlight – the only status LED strip with a buzzer on the back.
As I already own a Taranis Q X7 transmitter, I requested BNF version with FrSky receiver. Radio module comes soldered to the flight controller.
Camera, FPV and OSD
FuriBee GT 215MM is equipped with a no-name "5MP 1/2.7 inch" camera with 2.1mm lens and 140-degree field of view. Depending on your flight style you can adjust the tilt angle of the camera. The lens is a bit exposed, which can be an issue if you are practicing by using metal gates.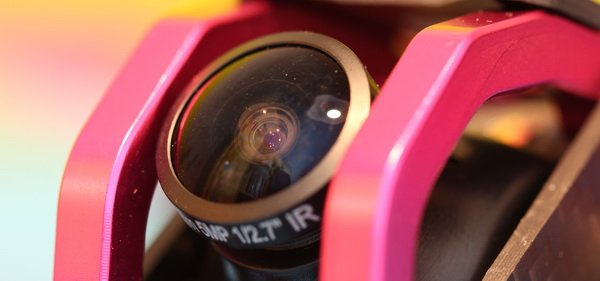 Image quality is quite good, it has a fast response on light level changes. In order to record the journey of your flights, in addition to the 960H FPV camera, you can attach to the top plate a small factor DVR camera.
OSD values like elapsed flight time, flight mode, battery voltage, the virtual horizon can be displayed on your FPV goggles. Unfortunately, the radio signal meter (RSSI) shows permanently "0".
The 5.8G VTX module has two buttons on left side. One allows to toggle between 25, 200 and 600mW broadcast power, the other one to switch between 6 bands and 8 freq (from a total of 48 channels).
How to bind the FuriBee GT 215MM with the FrSky transmitter?
Firstly, I created a new model on my Q X7 transmitter and name it "FuriBee GT". After that, under the "Model setup" screen I set "Internal RF", operation mode to "D8" and channel number to 8. Finally, I selected the "[Bnd]" option.
Next, I powered ON the drone while pressing the radio module's F/S button using a toothpick. The successful binding will be confirmed by solid green light.
Last step is to verify the channel mapping and assign the control switches through Betaflight Configurator. Like usual, I opted to use left shoulder switch to Arm/Disarm the motors and the right 3 position switch to toggle between preferred flight mods.
BTW, you can also assign the buzzer to a switch. This will help recover the drone if crashes in places hard to find.
Usability and flight characteristics
While the included user manual is not too helpful, I managed to go through the pre-flight preparation very quickly. It took me about 60 minutes from unboxing to maiden flight. Anyway, in my opinion, newbies should skip over PNP package, and choose
BNF one with a pre-installed radio receiver.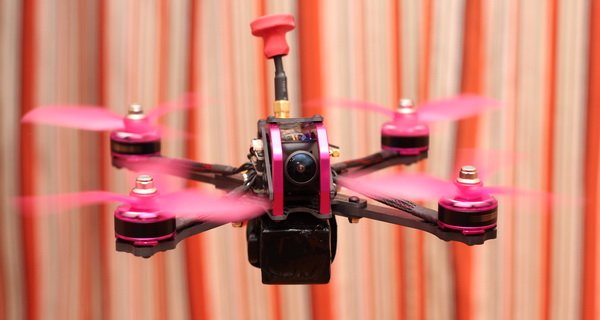 Unlike toy drones, when you arm the motors they start to spin. Note: BetaFlight allows to arm the motors only if throttle is zero.
Even with 4S LiPo, the FuriBee GT215 1 is very fast and responsive. Punch-outs are truly impressive. Professional pilots who need higher speed can go further by using 6S battery.
OSD values are very handy when you are flying through FPV goggles. You always know how much power is left in the battery. The virtual horizon makes you feel like a real pilot. OSD configuration menu can be accessed by pushing the throttle stick to center-left and right stick to center-top.
Editor's ratting
Price/performance ratio

Design/Build quality

Camera & FPV & OSD

Flight caracterisitics

Flight time
Verdict
Maybe the FuriBee GT 215MM doesn't has the best general presentation, but for its price it is a pretty powerful racing quadcopter. It comes with versatile F4 flight controller and wide range of LIPO compatibility. Offering multiple flight modes, it fits for newbies as well as for experienced FPV pilots.
Now, you can buy it from Gearbest for $159.99 in a bundle with FrSky receiver. If you prefer to use your own radio module you can opt for PNP package.
Good stuff
Compatible with a wide range of LIPOs (3s~6s);
Nice RGB direction lights;
Superfast;
Good image quality;
Telemetry and OSD:
On-board buzzer;
Included prop removing tool.
Bad stuff
Bulky general presentation;
Lack of spare parts.
Ugly stuff
Sharp edges on motors;
Screws from the bottom plate can damage the battery.