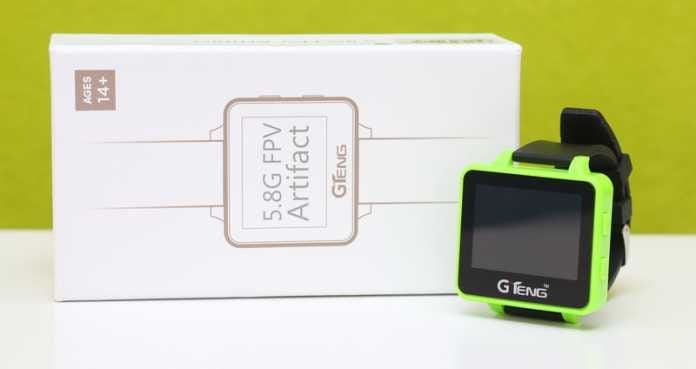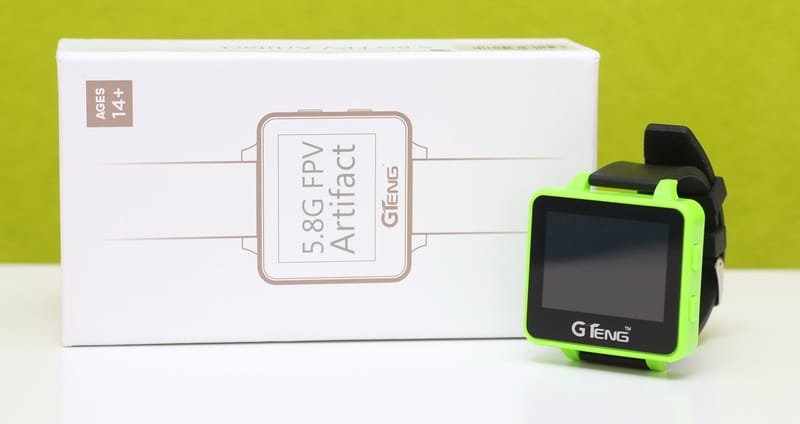 Currently, there are several types of FPV displays on the market but the most widespread are the 7″ FPV screens and FPV glasses. Frankly, I don't think that gadgets like this GTeng T909 watch can compete with FPV goggles because they are not too practical. In my opinion, they can be used more for fun than for truly professional usage.
Although probably for most of us, this kind of FPV gears are completely new, Boscam has a very similar product for some time. Actually, I think that the GTeng T909 is a replica of the Boscam 200RC wearable FPV watch.
GTeng is a new brand in the drone market. They started with a couple of small quadcopters with innovative design and their "flagship" model is T901F which can be also paired with this T909 FPV watch.
When I found about this GTeng T909 FPV watch I thought that it would be nice to have some of them in order to share with my friends my experiences with racing quadcopters. This doesn't seem to be such a crazy idea as they are cheap, for $30 you can't find any other usable FPV display.
Last month I reviewed another 007 gadget, the watch controlled FlyPro XEagle Sport quadcopter. My only disappointment was that the Xwath doesn't offer first-person view (FPV).
GTeng T909 review
This sample was offered for free by GearBest in order to make an impartial review. Thanks again for their professional attitude.
The package was delivered very fast and the single inconvenient wast that the custom officer didn't want to believe that the GTeng T909 costs only $ 34 (now it is even cheaper). He asked me to provide the site from where I purchased it. I think it is possible that he just wanted to order one :D.
GTeng T909 wristwatch features and specs
Wearable, wristwatch alike FPV display;
Generous 2″ LCD screen with 960 x 240 pixels;
140°/120° viewing angle;
Built-in 5.8G
Foldable 3dBi 5.8G antenna;
One key CH switch;
LED status bar (channel number);
Integrated 300 mAh Li-Po battery;
Universal micro USB charging interface;
About  60-70 meters working range;
Up to 1 hour working time.
GTeng T909 review – First impressions
Besides the FPV watch I found inside the neat cardboard box a micro USB charging cable and a small instruction manual. On the bottom of the box there are printed the full specs of the GTeng T909 and the list of receiving frequencies (Band/Ch).
Both, design and build quality, look quite good for its price range. Although many will consider it bulky, I actually liked the shape of this GTeng FPV watch. The black and green color combination makes it very hi-tech.
While on the seller website says that it has a 2.6″ LCD screen, actuality it has a bit smaller one, measuring only 2″.  On the right side of the GTeng T909 there are two buttons, the upper one allows to switch it On/Off and the lower one to toggle among receiving frequencies. Short press to switch between channels (CH1 – CH8) and long press to switch between bands (A, B, E and F ). On the bottom part of the wristwatch there is a LED status bar that will show the selected channel.
On the left side of the T909 is located the 3db 5.8G antenna which can be folded in neatly when it is not used. In order to obtain the best reception, I recommend setting the position of the antenna vertically.
Bellow the antenna is located the micro USB charging port. The integrated 300 mAh battery can be recharged through any USB socket using the included micro USB cable.
GTeng T909 FPV watch test
As the battery of the GTeng T909 was near empty, prior to my testing I had to recharge it. This process takes around 1 hour, the same as the working time.
Wearing the watch is pretty comfortable, excepting that it heated up a bit after longer usage and and I sweated underneath.
Firstly I test it indoor using my RunCam Owl Plus camera and a 200mW 5.8G video TX. The signal was very stable even through two brick walls. Unfortunately, the GTeng T909 does not allow to enhance the image quality through brightness and contrast adjustments.
I tested it outdoor with my Cheerson CX-35 FPV quad but mainly this GTeng T909 can be paired with any 5.8G FPV drones. I cannot lie that you can truly have a first-person view flight using this FPV gear. It is very hard to look at the screen of the wristwatch while you are using both hands to control the aircraft.
I  thought that the 960 * 240 LCD is enough to display the smallest details but unfortunately, after testing, it proved that I was wrong because the OSD telemetry values are hardly readable.
Although the manufacturer advertises this product with receiving distance of about 60m, I read that someone managed to receive a clear video signal up to a distance of 400 meters. This huge difference is because the operating range of an FPV display varies greatly on the emission power of the TX module.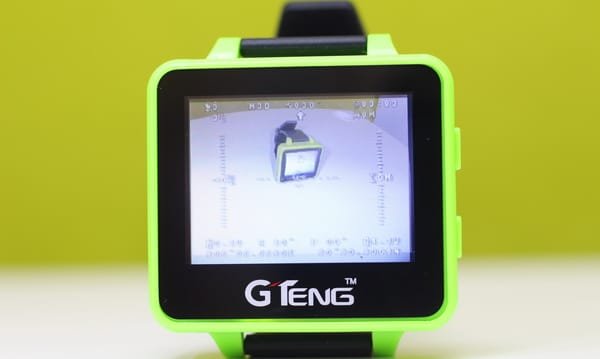 Editor's ratings
Price/value ratio

Design and build quality

Performance
GTeng T909 review - verdict
Frankly, probably no one will use the GTeng T909 as a real FPV display but it is still a nice FPV gadget. In my opinion, it can be used perfectly as secondary FPV monitor in order to share your FPV flights with your friends. I also find it very useful to test my 5.8G FPV gears. And last but not least, the kids will find this thing pretty awesome :)
Priced for only $29.99 with free shipping at GearBest, the GTeng T909 is definitely the cheapest FPV display with built-in 5.8G receiver.
Pros
Extremely affordable FPV screen;
Easy to use;
Standard micro USB charging port;
Integrated 32ch 5.8G receiver.
Cons
No DVR features;
No contrast adjustment.