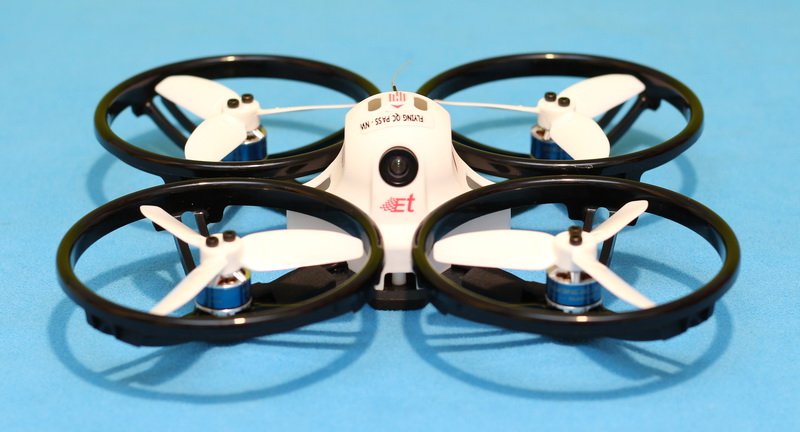 As I just read that KingKong plans to change its brand name into "LDARC", I should probably name this article "LDARC ET125 review" instead of "KingKong ET125 review".
Usually, numbers in a quadcopter's model name refer to the diagonal size in millimeters measuring the distance from rotor to rotor (wheelbase). KingKong's ET Series has 3 different sized drones: ET100, ET115, and ET125. While between ET115 and ET125 are no differences except the size, the ET100 is equipped with different brush-less motors and smaller capacity batteries.
I opted to review the ET125, because it seemed to have enough power to be used not just for indoor flights, but for outdoors as well. Although by default it comes with 2s Li-Po,  my plan is to test it with 3s battery and hope that motors will not burn out :)
What features make Kingkong ET125 the best brushless Whoop?
Compact design with large propeller protectors;
Carbon fiber frame with the protective canopy;
Versatile F3 PIKO BLX flight controller with multiple flight modes;
Popular BetaFlight firmware;
Powerful XT1104 7500 KV brush-less motors;
4 in 1, 10 Amps, BLhelis 10A ESC (2s and 3s rated);
800 TVL camera with 150-degree field of view (FOV);
5.8G, 16CH wireless video transmitter with adjustable broadcast power;
Integrated buzzer for fail-safe and low voltage alarm.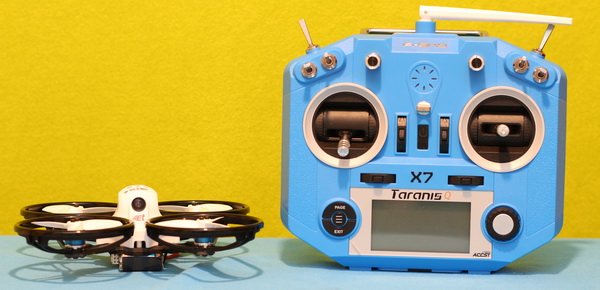 Kingkong ET125 drone review
Disclosure: I received this ET125 mini brushless drone as part of a product review collaboration with HobbyWOW. Although the drone was offered free of charge, all opinions in this review are my own. Note: product specs and quality may vary according to the manufacturer's reliability, so I cannot guarantee that you will get exactly the same quad as seen in my review.
As I already own the Taranis Q X7 transmitter, I opted for the KK ET125 with FrSky XM radio receiver. You can also opt for FM800 and FlySky receivers. Note: radio receiver comes separately and you need to solder it by yourself.
Instead of a useless cardboard box, the ET125 comes in a nice carrying case. Well done LDARC!
Besides the aircraft, I found inside the case the following: flight battery, 2 sets of spare propellers, blade removing tool, 2 x rubber band, firmware USB cable, and instruction guide (Chinese and English).
Design and build quality
From the first look, the similarities are obvious. Like the Tiny 7 is a copy of the Tiny Whoop, the ET Series reproduces the design of the much expensive Blade Torrent 110. It adopts a similar black frame with large propeller protectors and a white protective canopy. In order to give an extra spice for the base design, the 7500 KV brushless motors are blue.
General presentation, as well as the build quality, inspire that I'm dealing with a premium class product, not a cheap toy drone.
While the installed propellers are white, the included spare ones are yellow. In think I will mix them in order to have better view on the orientation of the aircraft during LoS flights.
A wide rubber band allows to attach firmly the 2s, 550 mAh Li-Po to the bottom of the frame. Taking into consideration its take-off weight (129 grams), I'm expecting about 3~4 minutes of flight autonomy.
Camera / FPV system
Instead of AIO camera, KingKong opted for the splitted approach. Camera and VTX modules are separated. The 150 degree FOV (field of view) allows pilots to see clearly in tight indoor spaces. No angle adjustment.
ET125's VTX has only 16 CH, which can make difficult to find a free channel when you are flying near many FPV drones. Switching from 25 mW to 100 mW can be done by shorting the broadcast power soldering tabs. Frankly, a micro switch would have been a more clever choice.
Image quality is nice. Half of the front blade protectors are visible in the field of view.
My first day with the KingKong ET125 brushless Woop
Today, I learned that is a damn huge difference between PNP (Plug-N-Play), BNF (Bind-N-Fly) and RTF (Ready-To-Fly). It took about 3 hours till my first successful take-off. For newbies even more time can be consumed with flight preparation.
Firstly, I started to read about the F3 PIKO BLX flight controller and the Frsky XM radio receiver. Luckily, the ET125 user manual includes the FC pin-out, making easier the wiring stuff (at least I thought so).
PIKO BLX wiring with FrSky XM radio
After I prepared the necessary tools (soldering iron, cutting pliers, screwdriver and magnifier), I started to look for 3 pieces of thin wires (white – signal, red – power, black -ground). About 5 cm long are just fine.
Next, I soldered the wires to the tiny 15 x 10 mm XM receiver's pins (GND, 5V and SBUS). In a hurry I soldered the SBUS wire to the PPM pin of FC. Much later I found out that I was wrong and SBUS goes to RX3 pin.
Using a piece of double-sided tape I attached the XM module on top of the flight controller.
I put everything back, including the screws that secure the canopy to the frame. Powering ON the remote controller I realized that I forgot to bind the receiver with the transmitter :(
Binding the KingKong ET125 with Taranis Q X7 transmitter
As in order to bind you need to press the F/S button of the XM receiver, I had to take apart the drone again.
After I created a new profile on the transmitter called "KK ET125", I set Mode to "D16" and Chanel range to "CH1-8". Next, I selected the "Bind" option. When the Taranis Q X7 is entering the "Bind" state, it makes a high-pitched beeping.
Finally, I powered ON the drone while pressing the receiver's F/S button. The successful binding was confirmed by nice solid green light. With confidence, I put everything back again.
Trying to verify the channel mapping and to assign the control switches through Betaflight Configurator I found out that something is still wrong. The XM receiver is not communicating with the flight controller. I double-checked the BF settings, everything seemed fine: Receiver set to "Serial-based receiver (Speksat, SBUS, SUMD) and Serial receiver provider set to "SBUS". I tried to set every UART port to "Serial RX", still nothing :(
Being at the limit of patience, I took apart the drone again. As I previously mentioned, I was wrong with the SBUS signal, it should go to RX3 instead of PPM port of FC. This time, I test it without reassembling it. All receivers channels worked as it should. Arming/disarming the motors, flight mode switch including the buzzer switch.
Flight characteristics
After all the above, it still had a good day! I was very happy to see the KingKong ET125 taking off gracefully. Contrary to my expectations, it is very silent.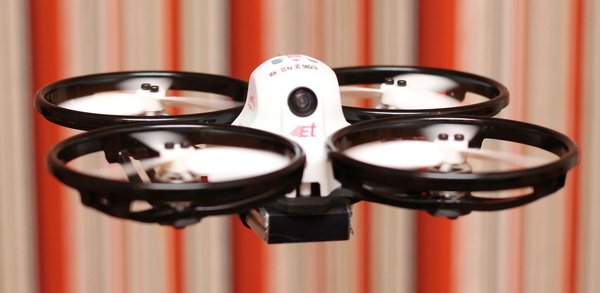 For now, I managed to test it only indoor in a limited space. It is very stable and responsive. Honestly, there is no comparison between the KingKong Tiny 7 and the ET125. The brush-less motors make a huge difference.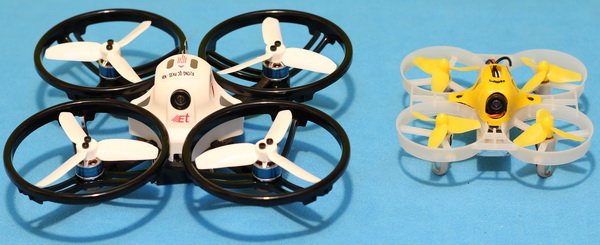 When the battery is near empty (~3.7v), the buzzer will let you know that is time to land and recharge.
I can not wait to catch good weather and go out to do more thorough flight tests.
Update: Here is my first flight with the ET125 drone
Editor's rating
Price/performance ratio

Build quality

Camera & VTX

Flight performance
Verdict
As winter is about to blow up any outdoor fun, this KingKong proved to be an excellent pal for indoor practice. Being much powerful than its smaller brushed brother, it will be perfect for the next outdoor flight season as well.
The 2.5 mm carbon fiber frame provides great durability while the 100 mW VTX brings clean video in almost any environment.
If you don't want to invest $200 in a genuine Blade Torrent 110, you can grab the KingKong ET125 from HW. There you can also find its smaller brothers, the ET100 and ET115.
Good stuff
Nice design with a protective canopy;
Carbon fiber frame;
BetaFlight firmware;
Included carrying case;
3 type of radio receivers;
Spare parts availability;
Fun as heck!
Bad stuff
Ugly stuff
RX module comes separately and needs to be soldered by yourself.