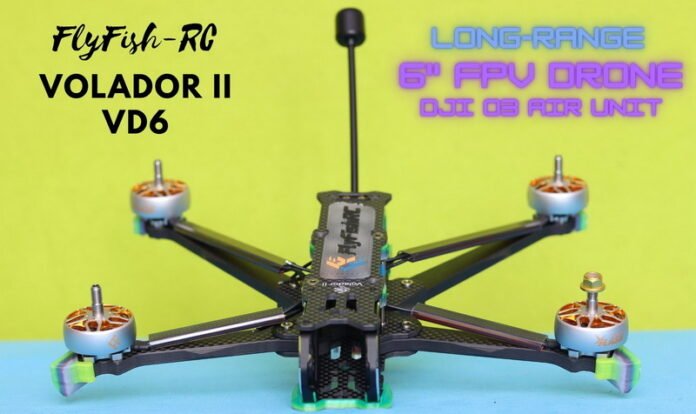 A few years ago, building your FPV drone was complicated and time-consuming. Putting parts from five different brands into a frame and making them work together required a lot of research. Now, thanks to names such as Joshua Bardwell, Oscar Liang, ELRS, BetaFlight, FlyFish-RC, RushFPV, DJI, and others, it's all become much more straightforward.
Before building the Volador II VD6 long-range FPV drone, I asked ChatGPT (the most popular AI chatbot) a few common questions, which probably any newcomer in the FPV world would need an answer.
What main parts have an FPV drone?

Frame: Volador II VD6 frame kit
Flight controller: RushFPV F722 V2 FC
Motors: Flash 2506 brushless motors
Electronic speed controller: BLADE 50A SPORT F4 ESC
FPV system: DJI O3 Air Unit digital FPV system
Radio receiver: SuperD ELRS 2.4G Diversity ELRS

What is a digital FPV transmission system?

Digital FPV systems offer improved video quality, reduced interference, lower latency, and additional features compared to traditional analog systems, enhancing the overall FPV flying and drone racing experience.

What radio protocol should I use?

Several radio protocols (PWM, PPM, SBUS, IBUS, FrSky, CRSF, and ELRS) are commonly used in FPV (First Person View) drones for transmitting control signals from the radio transmitter (remote controller) to the drone's flight controller. For long-range flights, the last two protocols are the best. ExpressLRS is a relatively new protocol that has gained popularity in the FPV community due to its open-source nature, flexibility, and performance.

What is the advantage/disadvantage of a five vs. six-inch frame?

The choice between a 5-inch and a 6-inch FPV drone depends on your specific needs and use case. If you prioritize agility, maneuverability, and racing, a 5-inch quad may be more suitable. However, if you value stability, a more extended range, and the ability to carry additional payloads (bigger camera), a 6-inch drone might be the better choice.

What is the difference between True-X and Deadcat design?

Deadcat frame design is characterized by a stretched X-shaped configuration, with shorter front arms than rear ones. The name "Deadcat" comes from the resemblance of the frame shape to a dead cat with its limbs outstretched. The shorter front arms help move the propellers out of the field of view of the FPV camera, reducing the likelihood of propeller blades obstructing the camera's view. This configuration provides better visibility during forward flight and is preferred by many long-range pilots.
Surprisingly, it gave understandable answers and looked like it figured out how these things work. If artificial intelligence had its own hands, it could build for you an FPV drone with no issue. Yeah, but then where's the fun?
FlyFishRC Volador II VD6 O3 long-range FPV drone review
Disclosure: I received these FPV parts from FlyFish-RC to make an in-depth review. Although the products were offered for free, all opinions in this article remain my own, and the sponsor did not influence me. DoubleF has been on the FPV market for more than five years and is committed to continuous innovation to help FPV pilots to make their flying dream come true!
Since I published my Volador VD5 review, FlyFish has expanded its product range with VTX antennas, GPS modules, TPU camera mounts, frame and motor spare parts, and drone tool kits. They sent me a 6″ frame, a set of motors, a GPS module, two O3 antennas, and an FPV hex screwdriver kit for this review. FlyFishRC's second-generation Volador frame is available in two size options (5" and 6″) and two arm configurations (True-X and Deadcat). I opted for the VD6 V2, which, as its name says, is suitable for 6″ propellers and adopts a dead-cat configuration with retracted front arms.
To assemble this FPV drone, I used only the 7in1 FlyFish tool kit, including a 1.0mm Philips screwdriver, 1.5/2.0/2.5/3.0/4.0mm Hex screwdrivers, and 8.0mm Nut driver for props. The aluminum handler has a hollow structure to be light, and the tips are magnetic to hold the screws. This kit is also excellent for field repairs. The only piece missing to make it complete is a wire cutter.
1. Volador II VD6 frame
The VD6 II frame kit comes in a compact box with many screw bags, two battery velcros, 3D-printed TPU parts, wire protection tubes, and bonus FF stickers. No user manual is included, just an exploded view of the frame. Each screw bag is labeled with its content (size x pieces), making the building part easier. Screws have already applied thread-locking glue, which is nice.
Someone asked me if there is any other difference between the 5″ and 6″ than the arm lengths. After inspecting them, it looks like the top and bottom plates are identical on both size versions. So the 6-inch version allows bigger motors and propellers but no extra room inside for the electronic parts or a bigger battery on top.
What's new in Volador II?
Instead of reinventing a new frame, FlyFishRC listened to the user's recommendations and improved the original (v1) Volodor frame. I remember that I also had an issue with the previous Volador frame. When I wanted to install the top plate, I realized that the XT60 socket could be inserted only in one direction (with + on the right). I had it exactly the opposite, so I had to desolder and reverse it. The new Volodor II has a rectangular hole, so now you can insert the XT60 connector in both orientations.
Others had an issue with the battery pad. It came off after a few uses. In the new version, they replaced the adhesive part with a quality one and also included a spare double-sided tape. I think this part still needs to be improved by a more sticky side like UMMAGRIP. Another reported issue was with the camera mount. It could accommodate only the O3 camera and the rigid mount added jello. The V2 frame kit now includes four sets of a silicone shock-absorbing camera plate insert (two sizes: 19mm and 20mm) for wider FPV camera size compatibility and smoother FPV footage. The TPU motor protectors have also been redesigned. They are smaller, lighter, and don't need to be installed through the motor screws. Another handy upgrade is the keystone between the arm that further reduces arm vibration and helps in the assembly part.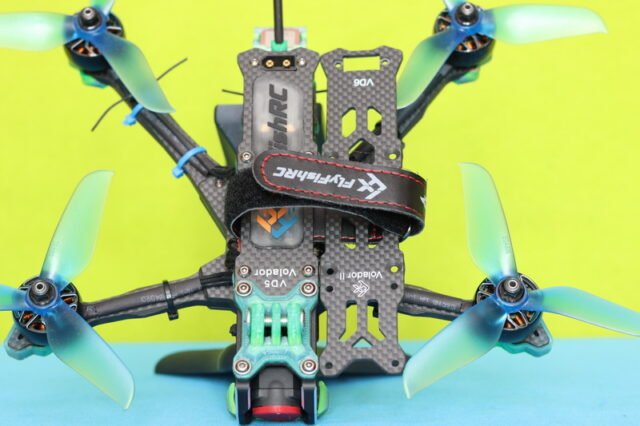 As a safety measurement, the four middle screws on the top plate are now countersunk and sit flush to eliminate possible battery damage during crashes. Despite these great upgrades, FlyFlishRC says the Volodor II is even lighter than its predecessor. Following the manufacturer's tutorial video, even newbies can assemble the frame without issue in less than one hour.
The Volador II VX6 is available with two TPU color options (Tropical Mix and Black) for $74.90. A pair of front spare arms can be purchased for $14.99, and real arms for $15.99.
VD6 II technical parameters
| | |
| --- | --- |
| Material | T700 carbon plate |
| Arm Thickness | 6mm |
| Top\Middle\Bottom plate thickness | 2.5mm |
| CNC Side plate thickness | 5mm |
| Propeller size compatibility | 6~6.1 inch |
| FPV camera mount size | 19mm/20mm |
| Wheelbase | 260mm |
| FC Stack mounting patter | 20mm*20mm/30.5mm*30.5mm(M3) |
| VTX mounting holes | 20mm*20mm/25.5mm*25.5mm(M2) |
| Weight with TPU parts | 200 grams |
| Dimensions | 259mm*109mm |
2. Flash 2506 1750KV brushless motors
FlyFish RC's Flash 2306 motor series has 1550KV and 1750KV variants, suitable for 6S LIPO batteries. The motors have beautiful siver&gold colors and use a Uni-Bell structure design, providing high crash resistance without adding more weight. The motors promise explosive power and thrust for FPV pilots.
The Flash 2306 motors are intended for 6″ propellers and come in the box with four mounting screws, a spare shaft bolt, and a gold 5mm prop nut. The motors weigh roughly 37 grams and have 20AWG 150mm wires -length right at the limit for the Volador VD6 frame. They feature thickened base and wire outlet protection braces. The motors go through strict dynamic balance and performance QC before packing to provide top performance. Both Flash 2306 1550KV and 1750KV motors are available for $23.90. Compatible replacement motor bells can be ordered for $13.90.
Flash 2506 technical parameters
| | |
| --- | --- |
| KV options | 1550KV/1750KV |
| Input Voltage | 6S Lipo (25.2V) |
| Configuration | 12N14P |
| Wire length | 20AWG 150mm |
| Shaft Diameter | 5mm |
| Mounting pattern | 16*16mm |
| Weight | 36.2g with short wires |
| Dimensions | 31.4*31.9mm |
3. M8QMC-5883L GPS module
The FlyFishRC M8QMC-5883L GPS comes in a nice plastic box with an FC-wiring cable and instruction manual. With a size of 20x20x11 mm and a weight of 9 grams, this is not the smallest nor the lightest GPS mode you can get. By comparison, the BN-220 GPS module with similar features measures 22mm*20mm*6mm and weighs only 5.3 grams.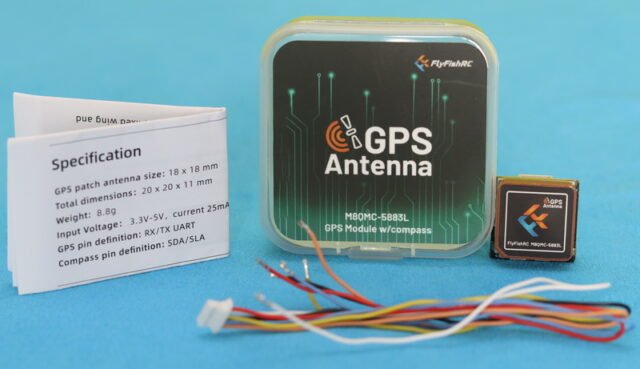 It adopts an 18x18mm RHCP ceramic patch antenna with excellent reception capability and stable connectivity. The built-in QMC5883L high-precision magnetometer provides precise azimuth pointing, and the u-blox10 generation chip allows subtle altitude changes to be skipped for more stability. It has two status LEDs: red for power and green for positioning.
The built-in TCXO crystal and farad capacitor allow a fast, hot start when you switch to a fresh LIPO pack.
It has an SH1.0-6P connection header with the following pinout: VCC (5V+), TX, RX, GND, SDA, and SCL. Typically, you need to use just four of them. The SDA and SCL signals are only necessary if you plan to use the built-in QMC-5883L 3-axis magnetic sensor. The built-in compass is helpful for navigation-orientated firmware like iNav. Priced at $30.90, it isn't the cheapest GPS module, but if you are a brand fan, the FF logo will look cool on the tail of your Volador quad :)
M8QMC-5883L technical specifications
Frequencies
72 channel
Refresh Rate
10 Hz
Baud Rate
4800bps-115200bps (Default – 9600bps)
Sensitivity
Tracking: -162dBm
Capture: -160dBm
Cold Start:-148dBm
Cold start speed
<24s
Hot start speed
<2s
Accuracy
Horizontal <2.5m average
SBAS < 2.0m average
Timepulse: RMS 30 ns
Accuracy
3.3V-5V,current 25mA
GPS patch antenna size
18 x 18 mm
Total dimenssiones
20 x 20 x 11 mm
Weight
8.8g
4. FlyFish Dual-Band O3 antenna
FlyFish offers dual-band antennas for the O3 Air Unit in three sizes: 40mm stubby, 95mm, and 145mm. There are black and red color options. The antenna itself measures Φ16*17mm and is slightly smaller than the original DJI O3 antenna. It has two IPEX connectors and an RF1.13 cable and, theoretically, should also be compatible with the Avatar HD V2 VTX. All three-size versions are available for $14.90 on FlyFishRC's website.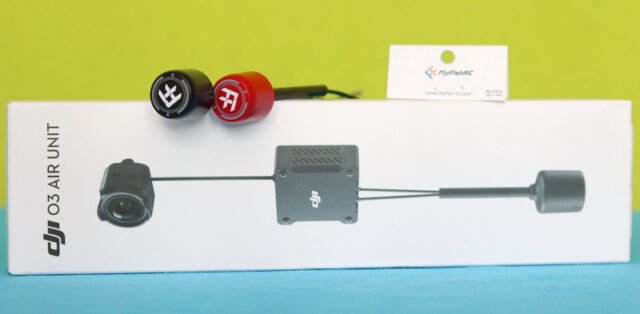 FlyFishRC O3 antenna technical parameters
Compatibility
DJI O3 and Walksnaill Avatar HD V2
Frequency Range
2400-2500MHz/5700-5900MHz
Gain
2.5dBi/3.8dBi
Polarization
Linear
Connector
IPEX*2
Cable
RF1.13
Length and weigh
40mm Stubby weight:2.4g
95mm weight:3.3g
145mm weight:3.9g
Antenna size
Φ16*17mm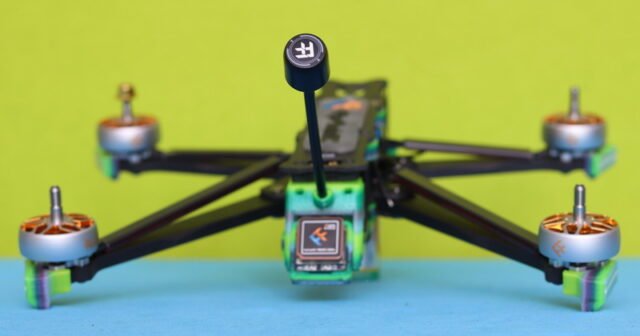 Flight performance and user experience
Update: I have had nearly 100 flights with the Volador II VD6 since I finished building it. I love this drone; it is precisely what I need. The new camera mounting system provides smooth, jello-free footage on my DJI O3 system. Additionally, you can install a GoPro or similar action camera with no issue.
The M8QMC-5883L GPS found 23 satellites in my flight field, which is pretty impressive. First 3D-fix (6 sats) takes somewhere between 90 to 150 seconds. The second 3D-fix (when changing the LIPO) takes only a few seconds. Using the latest BetaFlight 4.4, fails-safe RTH works pretty well.
Regarding flight time, you can expect about 10 minutes with a 4S 2000mAh or 8 minutes with 6S 1500mAh. If you remove the GoPro mount, you have space for 3000mAh or even bigger capacity batteries, giving you nearly 20 minutes of cruising time.
As six-inch drones are slightly bigger than five-inch ones, I equipped the Flash 2306 motors with DALPROP F6 foldable propellers to fit my existing drone backpack.