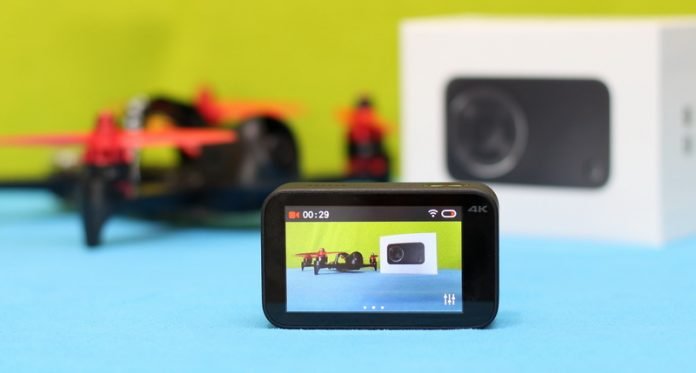 Whatever you are a FPV pilot or hobbyist aerial filmmaker, a good quality camera is a must have for your drone backpack. In addition to its compact design, the Xiaomi MiJia Mini features 4K@30fps video recording and electronic image stabilization.
While in the past Xiaomi tried to take over GoPro's domination on the action camera market through collaborating with Yi Technology, the MiJia 4K was developed in partnership with FiMi, a company which also produces the Xiaomi Mi drone. The "MiJia" brand name covers a wide range of other consumer electronic products (from dash cams, IP cameras, smart watches to vacuum cleaners). The funny thing is that you can even find Xiaomi MiJia sneakers :).
The MiJia 4K Mini excels even over GoPro's latest Hero 7 Black camera in weight (99g vs 116g), despite having a slightly larger touchscreen. When its come to using an action camera on a drone, weight is critical. You know: less weight means longer flights!
Xiaomi MiJia 4K camera highlights
Ambarella A12S75 imaging processor (SoC);
Sony Exmor IMX317 image sensor;
145° wide angle, F/2.8 aperture lens;
Native Bluetooth & WiFi connectivity;
Generous 2.4″ touch screen display (640 x 360);
Dual microphone system;
UHD video recording with up to 30 fps;
Ultra high frame rate (up to 240 fps at 720P);
High bit rate, up to 100MBps;
Electronic image stabilization (Works up to 1080p@60fps);
Up to 8MP photo resolution;
Mobile device APP (iOS and Android);
High-capacity removable battery (1450mAh)
Tripod mounting hole (1/4″);
Underwater operation with dedicated case.
Xiaomi MiJia 4K camera review
Disclosure: I received this action camera as part of a product review collaboration with LightInTheBox. Product specs and quality may vary according to the manufacturer's reliability, so I cannot guarantee that you will get a camera that performs exactly the same as seen in my review.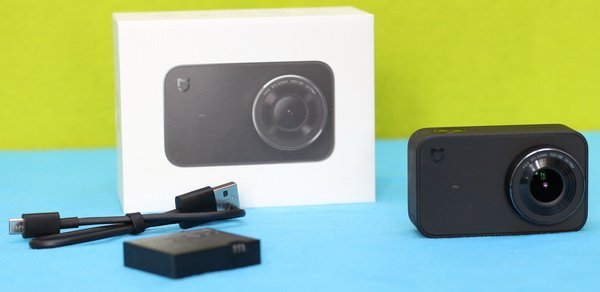 The package arrived in about 4 weeks. Like the Xiaomi Yi 4K, the MiJia Mini also comes in a smallish, but beautifully made, white presentation box. Besides the camera, battery and USB charging/data cable there is nothing else included. No lens cap, waterproofing case nor mounting accessories. Pretty shame, a rich accessories pack could make this camera a hot selling product.
At a glance
My first impression on the camera was that it has a nice stylish design and decent build quality. The black camera sides have fine sandpaper texture that offers excellent grip. The whole back surface is made of glass. While the sturdy metal lens ring look nice, IMHO it will make harder to fit the camera on third-party gimbals. Also, measuring 2.81 x 1.68 x 1.16 inches, it is a bit wider than similar action cams. For larger aerial drones (Phantom sized), I do not think that its form factor would be an issue, but on silk FPV drones would look ridiculous (lens would be also not aligned with center of the drone).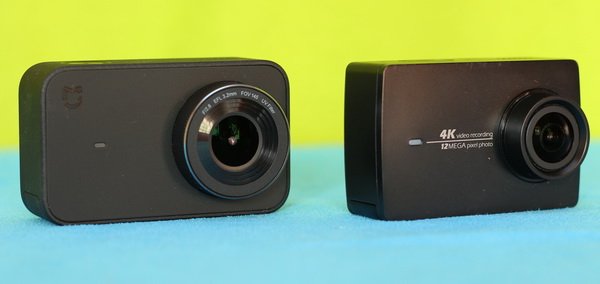 The 2.4″ touchscreen LCD has a resolution of 960×480 pixels – is the largest among all the similar drone cameras we reviewed. Thanks to the easy to use interface, even your granny could master it.
On front panel, under the "MiJa" logo there is a status LED indicator which turns red when the camera battery is charging, blue when the cam is operating, white during data transfer, and orange when you're halfway through the battery capacity.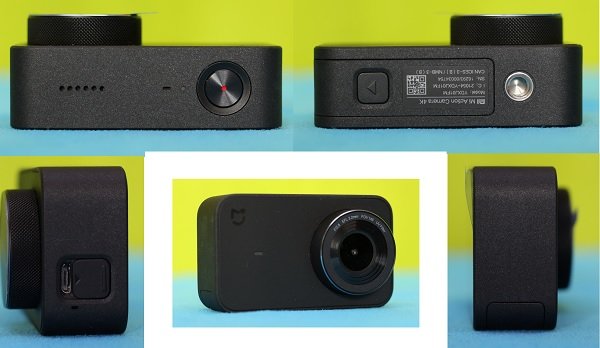 Like in case of similar action cams, the large metal Power/Shutter button, the speaker and microphone are found on top of the camera. On the left side, behind a tiny flap, is located the micro USB Data/Charging port. Unfortunately, there is no HDMI port for direct TV connection. The dual microphone system provides not just better audio quality, but will also save your videos if you accidentally cover one mike with your finger.
Battery Life
The 1450mAh battery is loaded from the bottom of the camera. Micro SD slot is accessible by opening the battery compartment cover. According to the Xiaomi MiJia Mini specs a fully charged battery provides up to 2 hours UHD video recording or up to 3 hours of FHD recording.
Remote APP – Mi Home
First of all, based on Mi Home rating's (only 2.9 stars), probably the software is still on developing state and it has many bugs. The App lets you connect your mobile device (phone or tablet) to the camera's WiFi and offers a nice user interface that allows you to remotely change several settings as well as to start / stop video recording. The APP also allows to upgrade the camera's firmware.
In order to connect the camera with your device, you need to turn on the WiFi connection. Upon WiFi is enabled, a pairing password is provided on the camera's screen.
I found the APP useful only if the camera is mounted on a drone or tripod. Otherwise, the direct control is more convenient, it also has less energy consumption by turning off the WiFi connection.
Xiaomi MiJia 4K review: First usage
When I agreed to review the Xiaomi 4K MiJia Mini, I decided to test it in every possible way. Of course, as it comes without a waterproofing case I will skip over the underwater tests or shouldn't I :D?
Powering ON the camera, you can toggle between 3 main screens: mode selection, live view and playback mode.
The Xiaomi 4K MiJia has 9 different working modes: Video, Time Lapse Video, Slow Motion, Loop Recording, Video+Photo, Photo, Timer, Burst and Time Lapse photo. Each mode has its own settings menu (resolution&frame rate, quality, lens distortion, metering mode, EV, WB, Color).
By sliding your finger from top to down on the center of the screen you can activate the main menu (Settings, WiFi, Camera lock and Power OFF).
Video & Audio Quality
Firstly, I tested its low light performance. I captured two videos, one with 4K@30FPS and one with 1080P@60FPS with EIS enabled. Frankly, I got disappointed by both. The videos were very dark, noisy and sometime even blurry or out of focus. The 6-axis EIS helped a bit, but you need a motorized gimbal for truly smooth videos.
On good daylight conditions, the video quality it is much better. Colors are vivid and images are sharper with more details.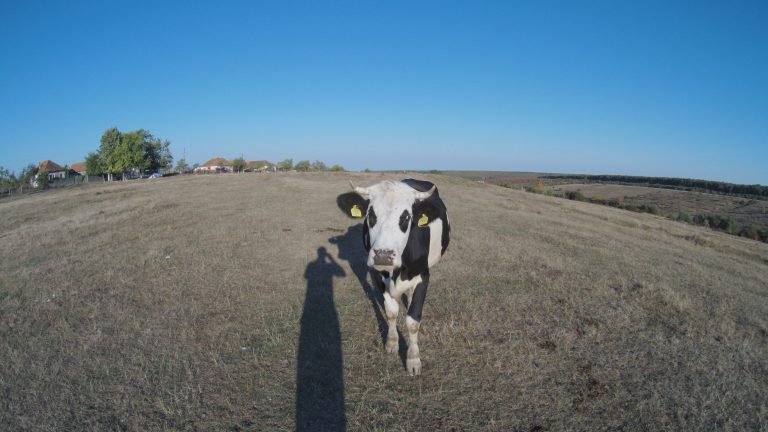 Lens correction works really well, removing almost all the distortion generated by the wide angle lens. Note: if this feature is activated you will lose some field of vision.
Without case, sound quality is quite good and enjoyable. The dual microphone system does a great job.
As soon as the weather allows me, I will also test the MiJia Mini camera with my Arducopter F450 drone. I already mounted the camera on its 2-axis gimbal to be ready when the wind calms down.
Editor's ratings
Price/value ratio

Design and build quality

Photo quality

Video quality
Summary
Overall, the Xiaomi MiJia Mini is an excellent choice for those looking for a 4K drone camera. It is lightweight and offers good image quality. Upgraded with the latest firmware will allow to record FHD videos at 100fps!
With a compatible waterproof case it can be used during almost any outdoor activities (from hiking to diving).
While on paper, the EIS feature sounds incredible I found it mainly useless. Especially, that  it is available only at max 1080P@60FPS. Instead, combined with a MiJia Gimbal will allow you to capture cinematic footage even with 4K video resolution.
If you are on limited budget or just afraid to hang a $400 GoPro on your drone, the Xiaomi MiJia Mini camera can be ordered from here. I read somewhere that LightInTheBox offers  some king of Duty & Tax insurance, of course this extra service will be additionally charged.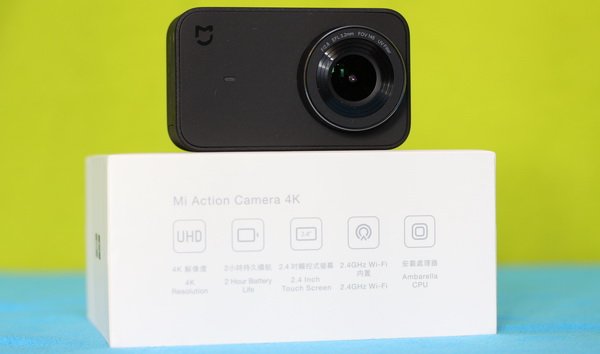 What I liked
Excellent Price/Performance Ratio;
Compact size;
Large color display;
Time-lapse & Burst & Timer features;
Tripod mount;
Excellent battery life.
What I didn't liked
Lens diameter is too wide;
Form factor is not proper for FPV drones;
No 60fps at 4K;
EIS (electronic image stabilization) works only at Full HD;
No Lens cap included.
Sample videos
MiJia 4K Time-Lapse test (1080p@30fps – 10s)
MiJia 4K test with Zhiyun-Tech Smooth-Q gimbal
MiJia 4K slow motion test (720p@240fps)
Xiaomi MiJia gimbal
Xiaomi offers a 3-axis gimbal exclusively designed for the Xiaomi Mijia Action Camera. Attaching the camera to the gimbal can be done conveniently through the 1/4″ tripod mount.
The camera is wired to the gimbal using the micro USB port. This way you can take photos, start/stop video recording and change exposure through the gimbal's button. While the Xiaomi Mijia Mini 4K camera is connected to the gimbal, it is directly powered by the gimbal's built-in 5000 mAh battery – allowing extended recording time.
Compared to regular selfie-sticks, a motorized gimbal will provide much smother videos. Using a a gimbal will allow you to capture cinematic footage.
Xiaomi MiJia 4K firmware upgrade
Firmware upgrades not just solves some functionality issues (bug fix), but also adds new features like higher bitrate or more frame rate. For example starting with version 0.6.12.05, the Xiaomi MiJia Mini 4K camera is capable to record 1080P videos with up to 120 frames per seconds.
Change log
V0.616.02i: Latest online MiJia Mini firmware;
V0.6.15.05: Update the Korean translator, Optimize the stamp logic, Add the Russian option on language, Optimize the user experience and Optimize the white balance strategy;
V0.6.14.02_beta: Optimize the image white balance, Add the YI bluetooth remote control adaptation and Fix the problem of the record time not refreshed probably when use the auto record function;
V0.6.12.05_beta: new video resolution (2.5K@60fps, 1080@120fps and 720@240fps  and loop record;
V0.6.12.01_beta: Add color menu in video mode: Vivid, Natural, F-LOG mode, Improve code rate in 4K / 30fps: ultra-fine, fine and normal stream are 100Mbps, 60Mbps, 40Mbps, Optimize camera exposure effects and Optimize Bluetooth connection;
V0.6.11.02: Add supporting Mi Action Camera 4K Handheld Gimbal function, Release distortion correction function at all modes, Optimize some prompt menus, Optimize the English description and Optimize the user experience;
V0.6.11.09: Add video color menus: natural, vivid, F-LOG and Improve updating logic.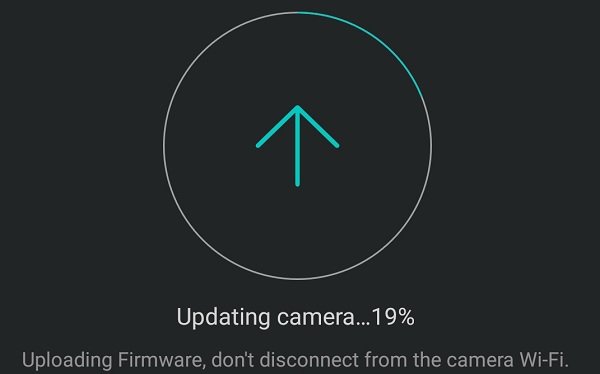 You have two ways to update the camera's firmware, one through the Mi Home APP or by copying the latest "firmware.bin" file on the micro SD card. If the camera does not detect the firmware upgrade file on its memory card, or if you want to downgrade the firmware version, create an empty text file named "force_fw.txt" at the root of the micro SD card, next to the firmware file. Note: always proceed will fully charged battery and never power-off the camera during firmware process.
Bottom line
That's all for this review! If you have any questions or thoughts about it, feel free to use our contact form or write a comment bellow.