I read somewhere that XK Innovations is a "deluxe" division of WLToys. Certainly, on first look, the XK X252 quadcopter has a pretty nice design and comes with many features. Only its attractive price is apart from a "deluxe" product so I'm expecting to discover about this quad only positive things during my review.
The XK brand started to become popular with its X380 quadcopter. That cruising model is still an affordable alternative to the popular DJI Phantom series. Shortly after this success, they announced another 3 models including the X251 which is the predecessor of this X252. With a top speed of 20 m/s (72km/h), the XK X252 can be easily categorized as an entry-level racing quadcopter.
In order to make this newer model even more attractive, the manufacturer decided to equip the XK 252 Shuttle with a complete 5.8G FPV system. This upgrade increased the final price of the product by about $ 40.
XK X252 Shuttle highlights
Lightweight airframe;
Durable brushless motors;
Versatile 7 CH transmitter;
Futaba S-FHSS radio protocol;
720P camera with recording function;
Complete 5.8G FPV system;
Multiple flight modes (3G, 6G, and 3D);
Bright frontal LEDs for night flights.
XK X252 quadcopter review
Realizing that my F210 is too fast to practice flying through FPV goggles, I happily accepted GeekBuying's offer to review this XK X250 quadcopter, especially that lately we succeeded to build together a nice partnership. I should mention that I'm not paid to make my review in a specific way and also that I'm not using affiliate links in order to make a profit from sales.
As usual, they opted for the SF Express shipping company. The package was delivered smoothly and very fast, without extra charges directly to my door.
Inside the box, every part was well arranged and protected. Besides the quadcopter and its professional transmitter, the package includes FPV screen, 5.8G antenna, 1 set of spare propellers, flight battery, battery charger, AC/DC adapter, USB charger for the FPV screen, USB card reader, 4GB micro SD and user manual.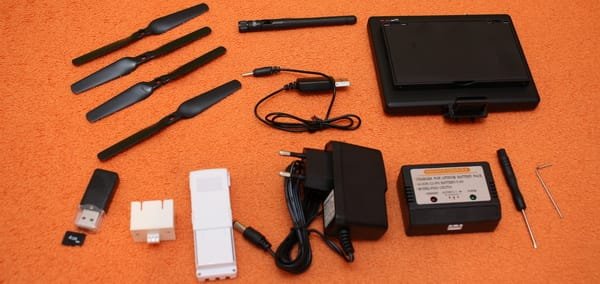 While this XK X252 is an entry-level quad suitable for beginners, the package does not include propeller protectors. These things can protect the propellers (but also your fingers :)) in case of crashes.
XK X252 review – First impressions
Being an RTF (ready to fly) quad, everything comes assembled and set-up. You just need to charge and load the flight battery.
Holding it in my hand for the first time I was surprised by the weight of this small quad (175 mm x 175 mm). It is much heavier than a brushed drone.
Unfortunately, the X252 Shuttle is entirely made from plastic, without adopting 3K carbon fiber arms like its predecessor (X251) so take it easy with the acrobatic flight movements.
In terms of form, it reminds me of the JJRC X1 but the design is completely different because it seems to imitate a race car.
In the front part, there are two bright LED lights that are very helpful to determine the orientation of the aircraft. Four additional LEDs will make your night flights very spectacular (blue LEDs under front arms and green&orange LEDs under the rear ones).
Instead of landing gears, the X252 features four low-profile rubber pads.
The lifting power is generated by four 1806 brushless motors. You can opt to mount on the 4mm shafts the regular or 3D specialized propellers.
Under the frontal 720P FPV camera is located the micro SD card slot. In my opinion, it is too exposed during crashes and a side location would be safer.
The XK X252 Shuttle drone is powered by a 950 mAh Li-Po battery. Although the encapsulated battery design seems to be a professional approach, later will be proven that you are limited in options for spare batteries. Also, it is a bit annoying that every time you charge the battery you must attach the balance adapter.
XK X252 review – Transmitter
The included XK X7 transmitter looks very professional and almost identical to the one that the XK X380 quadcopter has. It features precise control sticks and can store customized settings for up to 10 different aircraft (quadcopter, drones, airplanes, and helis).
Besides the usual control sticks and trim buttons, there are 4 switches (two on each side), 3 buttons ("MODE\Menu", "BACK\Exit" and "Rec"), and a rotary dial button.
By long-pressing simultaneously the "MODE" and "BACK" buttons can be accessed in the RC's settings menu.
Through the left shoulder, switches can be set to the desired flight mode. While the upper switch allows activating the 3D mode, the lower one toggle between 6G and 3G modes. In case of an emergency, you can stop the motors using the "TH Hold" switch.
The red push-button allows to start/stop video recording.
In case the quad starts to behave abnormally, you cant try to re-calibrate the gyro by pushing both control sticks to the lowest right position (works only for 6G – stable mode).
XK X252 review – Camera
The 720P HD camera is integrated and does not allow angle adjustment.
In front of the camera lens, there is a clear transparent plastic which is nice because it can protect the 140-degree lens from scratches during crashes.
Under the camera is located the micro SD card, where the recorded videos are stored. Unfortunately, the camera can't take still photos, only videos with sound.
Excepting some dropped frames, overall the image quality is good and almost jello-free so you can capture your flight journey in an enjoyable quality.
Two minutes of captured 1280 × 720 @ 30fps video occupies about 245 MB on the micro SD memory card.
XK X252 review – FPV monitor
In order to display the camera's real-time video feed, you need to attach the included 4.3″ FPV screen above the RC's antenna. The resolution of the LED illuminated TFT screen is 272 x 480 pixels.
The screen comes with a built-in battery, which can be recharged using the including USB charging cable.
In the top area of the screen are displayed the following: elapsed time, channel number and battery level of the FPV screen. There is also an OSD recording timer in the bottom area of the screen.
On the back of the XK X252 FPV screen, there is a tiny push-button witch that allows changing the receiving channel.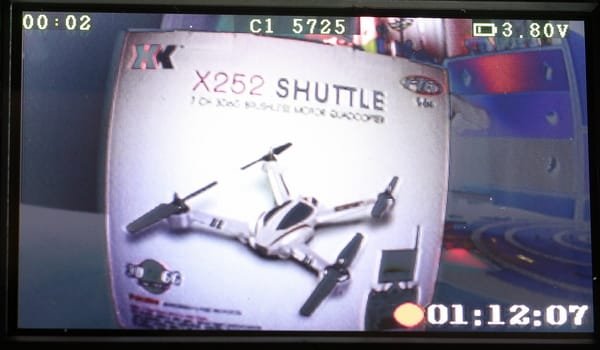 The 5.8G FPV LCD is equipped with a sunshade, which is very helpful during sunny days. Unfortunately, there is no possibility to fine-tune the image quality (no contrast/brightens adjustment).
XK X252 Shuttle – First usage and test flight
Because I'm preparing to leave for a short holiday, I managed to test the XK X252 Shuttle only indoors. I know, this kind of RC toy requires much more space to unleash the devil inside :D
In order to turn ON the quadcopter, you need just to insert the battery.
There is no arming sequence. The throttle stick immediately activates the motors, so pay attention to the fingers.
I tested only the 6G flight mode where the quad is very stable and easy to control it, perfectly tuned for beginner pilots.
While the advertised flight time is 12 minutes, I managed to fly about 10 minutes till the LEDs started to flash warning me that it is time to land. In outdoor conditions, I'm expecting even less.
Friendly advice: always remove the battery from the quad when you finish your flight otherwise the flight battery will have a short life.
I promise that as soon as I'm back I will update my review with more impressions regarding this quad's flight capabilities. I will also upload the unboxing, maiden flight, and camera test videos.
Unboxing and maiden flight video
Price–performance ratio

Design and build quality

Flight autonomy

Remote controller

Camera
XK X252 quadcopter review - Verdict
Lets see what you get for $ 165: a nice brushless quadcopter with 3D flight abilities, a complete first person view system and a pretty cool remote controller. In my opinion, this is not bad if you want to start your journey in the word of quadcopters. Practically, without extra costs you got everything you need to learn how to fly a drone, on both ways LoS and FPV.
Thanks for your time spent reading my review. If I aroused your interest to buy this nice all-in-one quadcopter you should know that it can be ordered with 48% discount from here. You can opt between white and black colors. BTW, maybe the black one has bulletproof painting :D because it is more expensive (with about 5 $) than the white edition.
Pros
Affordable 3D blushless quadcopter;
Can land on both sides;
Multiple flight modes;
FPV camera with recording function;
Versatile transmitter with excellent control range.
Cons
Fragile airframe;
Proprietary battery;
Hard to use FPV screen in strong daylight.
Although this product review is sponsored, all opinions are my own!