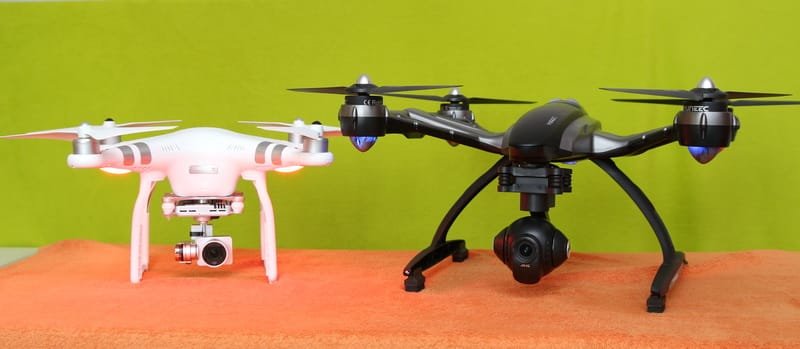 Frankly, I would have preferred to compare the Yuneec Typhoon H with the Phantom 4 but life isn't that generous, I own "only" this Yuneec Q500 4K and DJI Phantom 3 Advanced (for the moment >:)). Lately, I found many quadcopter reviews and comparisons made by ones that didn't even see in reality the product. In my opinion, it is fairer to truly review an older product than just put together some speculations in a kind of a review about a new and trendy product.
DJI and Yuneec Electric Aviation are currently probably the biggest players in the consumer drones market so the battle between them is quite fierce.
I just realized that this will be my first article of this kind as I have not yet compared two quadcopters side-by-side. The idea came when I observed how many drone enthusiasts are oscillating between these two quads and I thought a comparison review might help them in taking this decision.
Both, Yuneec Q500 4k and DJI Phantom 3 are amazing quadcopters in their own way. These two have not just completely different designs but also different features. Promise that I will try to honestly underline all the pros and cons of these two competitors.
Yuneec Typhoon Q500 4k vs DJI Phantom 3 Advanced
Firstly I received for review the Yuneec Q500 4k, which was my first truly impressive quadcopter. About two months later I got the Phantom 3 Advanced.
On the first impression, the biggest advantage of the P3A over the Yuneec 4k was the much greater flight and FPV range. While, everywhere (RC Forums, Facebook, and Reddit) I have read that the image quality of the DJI Phantom 3 is better, after testing both of them I found out that the Yuneec's 3-axis gimbal offers much smoother videos with less jello effect.
Both quads come in RTF (ready to fly), which mostly means there's no assembly required, just charge the batteries and fly.
Contrary to the DJI Phantom 3 package, where after a few flights you will find that you need to additionally purchase some accessories, the Yunnec's package is very rich.
I already purchased for my P3A a second spare battery, 64GB memory card, 7″ tablet and I still need to buy a sunshade, lens filters and car charger.
The Yunnec comes basically with all the accessories that you might need. I appreciate very much the fact that the transmitter has an integrated FPV screen and also a second flight battery (which allows in total about 40-50 minutes of flight time). The StadyGrip is also a nice feature that allows using the 4K camera on the ground without paying $500 for an expensive gadget like the DJI Osmo.
You can find the detailed description of the included accessories in my reviews for these two quadcopters. Thanks again to HobbyWOW and B&H Photo who offered me these two quadcopters making this side-by-side comparison possible.
Yuneec Q500 4k vs DJI Phantom 3 – Design and build quality
Regarding the build quality, I can say that both drones are well built with self-tightening propellers and wire-free batteries.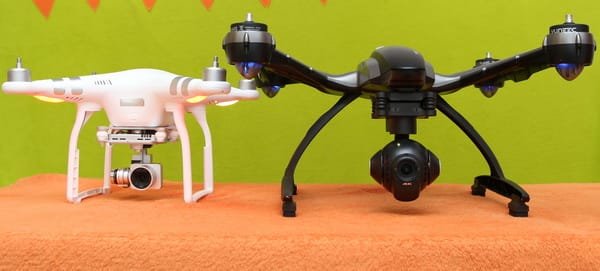 Both models have a nice design in their own way. I loved the professional and aggressive look of the Yuneec 4K while my wife appreciates the clean elegant lines of the DJI Phantom 3.
As you can see on the photo above, the Yuneec Q500 is slightly bigger than the DJI P3, which somehow has a negative impact on the flight characteristic.
While the DJI Phantom's lifting power is generated by four "standard" KV800 brushless motors the Yuneec Q500 4k is equipped with unusually large KV700 motors.
During take-off and landing, I found the design of the Yuneec's landing gears more stable. I managed to safely land on windy days without flipping over as it happened with the P3A. I read that many prefer the hand-catching way to finish the flight, but after I saw the injuries that can be produced by the propellers I never had the courage to test it.
While the Yuneec has a dedicated On/Off switch, the DJI Phantom 3 can be powered ON through the smart battery's button. The P3's battery features a charging level indicator, which is great, so you can easily check if you're spare ones are empty or charged ready to fly.
Yuneec Q500 4k versus DJI Phantom 3 – Transmitter
The biggest visible difference between these two transmitters is the FPV screen. While the Typhoon 4K transmitter features a 5.5″ touchscreen, the P3A transmitter has only a universal tablet/smartphone mount.
The Phantom 3′ transmitter is powered by a built-in 6000 mAh battery and the competitor's remote controller has a removable 5200 mAh battery.
According to the operator's preferences, both remote controllers can be switched easily between mode 1 and mode 2.
In the case of Yuneec's transmitter, I found it very convenient to have all the info (flight parameters, setting menus, and live video feed) in my hand without any additional device. Although the FPV display of the ST-10+ is pretty bright, you will need to mount the included sunshade during sunny days. In my opinion, the motor arm/disarm button is very useful and should be adopted by other manufacturers too. When the "Follow-me" mode is enabled, thanks to the RC's built-in GPS positioning system, the quadcopter will follow the transmitter.
On the other hand, the DJI transmitter features the revolutionary Lightbridge HD video down-link which allows transmitting high-quality 720P@30 fps live video up to 3 km. Almost any Android or iOS mobile device (tablet/smartphone) can be connected through the included micro USB cable to the transmitter in order to display the real-time video feed and access the quadcopter's settings.
Certainly, DJI wins in terms of control range over Yunnec, allowing about 5 times higher distance flights. Anyway, in most countries, it is illegal to fly over the sight of view.
Yuneec Q500 4k vs DJI Phantom 3 – Camera and gimbal
Probably the most important factor for many people, when they consider buying a quadcopter, is the quality of the camera. Both cameras are installed under the belly of the aircraft through a 3 axis gimbal which automatically corrects any slight movement of the quadcopter.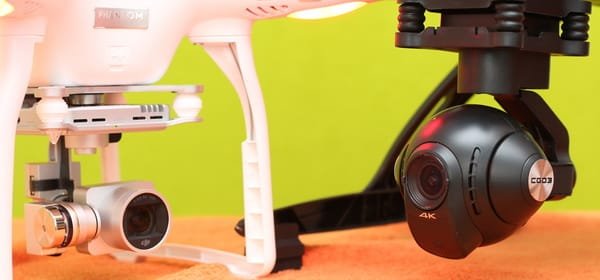 The only difference between the Phantom 3 Advanced and Phantom 3 Professional is the camera. While the Professional edition features an Ultra HD 4K camera just like the Yuneec Q500 4K, the Advanced has an "only" 2.7K camera.
Speaking for myself, the resolution is not everything. Personally, I prefer to capture videos with 1080P at 60fps more than 4K/2.7k at 30 fps. For those who intend to create some cool slow-motion videos, the Yuneec CG03 camera allows to capture Full HD videos with up to 120 fps.
In order to obtain the best field of view, both models allow to remotely tilt the camera up or down. In order to pan just turn the quadcopter around its axis.
While both cameras feature 1/2.3″ image sensors, the Yuneec's CGO3 has a slightly wider lens (115°) compared to the 94° of the DJI Phantom 3 series.
Thanks to the included CGO SteadyGrip, the Yuneec's camera goes beyond the aerial filming allowing to use the camera on the ground just like the DJI Osmo.
If you ask me about which camera is the winner, I would say that Phantom 3 Advanced offers better video quality. The captured aerial videos are more crispy with better dynamic range. In contrast the Yuneec's gimbal seems to do a better job allowing to capture smoother videos even on windy conditions.
Thanks to the DJI GO App you can share the Phantom's live video feed in real-time with your friends through YouTube and Facebook.
Regarding the storage of the photos and videos, both cameras accept micro SD memory cards. While DJI includes together with the Phantom 3 a 16 GB card, Yunnec includes a four times bigger 64GB memory card.
BTW, good to know that both cameras allow recovering unfinished videos due to power OFF before you stop the recording.
Yuneec Q500 4k vs DJI Phantom 3 – Flight characteristics
Both models can be easily controlled, even by new pilots. I prefer the more friendly one key motor arm/disarm function of the Yuneec over the DJI's control stick combination. Both quadcopters can take-off and land manually or autonomously.
As I previously mentioned, due to its large size the Yuneec is less fast and agile than the DJI Phantom 3. This is not a big disadvantage because you probably won't race with this Yuneec and for aerial filming, the gentle acceleration is just perfect.  The resulted videos are very smooth and steady.
Contrary to my expectations, being bigger and heavier, Yuneec has better flight autonomy. It allows about 2 minutes longer flights over the DJI Phantom 3.
Certainly, for those who are interested in long-distance flights, the Phantom 3 is their model. It has a much longer control range than the Yuneec.
Pairing a 10″ tablet with the DJI Phantom 3 offers a much enjoyable real-time video transmission compared to the one Typhoon Q500 4k has.
DJI claims that their innovative "Vision positioning" system featured by the Phantom 3 Advanced and Professional allows safe flying even indoor. Frankly, I didn't have the courage to fly in large indoor spaces (such as churches or sports halls) in order to test this feature yet, especially because I would never like to take the risk of crashing over people.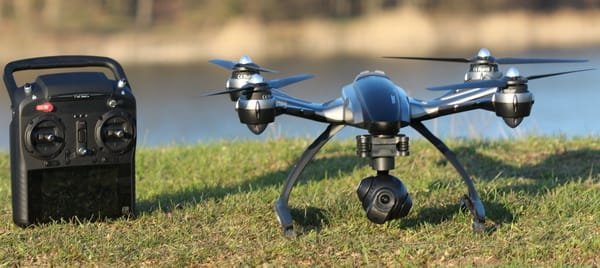 Yuneec Q500 4k and DJI Phantom 3 comparison table
Yuneec Q500 4K
DJI Phantom 3 Advanced
Package content

2 flight batteries

, transmitter, 2 sets of props, SteadyGrip,

lens filters

, car charger, sunshade and 

64GB

micro SD
Flight battery, transmitter 2 sets of props, tablet/phone holder, 2 sets of props and 16GB micro SD
Design
Imposing, professional look
Clean elegant lines
Dedicated motor Arm/Disarm button

Yes

No
Control Range
Up to 600 meters

Up to 3.5 Km

Maximum flight speed
35 kph

57 kph

Flight time

25 minutes

23 minutes
Collision avoidance
No
No
Vision positioning
No

Yes

Camera
video: 4K

, photo: 12MP

video:  2.7K, photo: 12 MP
Raw photo
Yes
Yes
Audio recording

Yes

No
FPV display

Yes

No
HD down-link
NO

Yes

Flight battery
3s 5400 mAh
4s 4480 mAh
Mobile APP
CGO

DJI GO

Others
SteadyGrip
HDMI output module for FPV
Price
$896
$799, check here for best price
More details

Yuneec Q500 4K review

DJI Phantom 3 Advanced review
* red means better
Probably the above comparison table could have more rows but I tried to underline only the most important characteristics of these two quadcopters.
Yuneec Q500 4k vs DJI Phantom 3 – Conclusions
On one hand, we have a professional-looking quadcopter with many included accessories, and on the other hand a more versatile quadcopter with better control and FPV range.
Definitely DJI offers more awesome features through the DJI GO APP than Yuneec with their CGO APP. Unfortunately, in order to truly enjoy all the capabilities of the DJI Phantom 3 you will need to spend few extra bucks for the second flight battery, bigger memory card, tablet, and sunshade.
On the contrary, by offering for free their SteadyGrip, Yuneec will save you a few bucks from purchasing a handheld 3-axis gimbal for your action camera (of course, in case you need one).
So the decision is up to you, whether you are interested in higher value or more features and better flight performances.