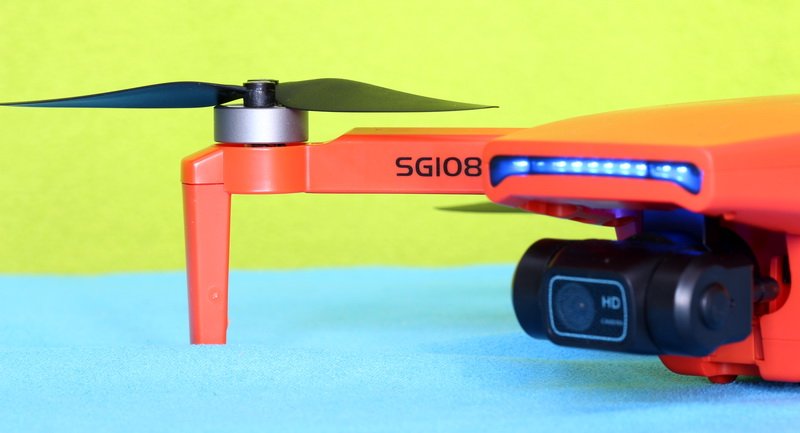 Today we will test and review the ZLL SG108 PRO, an ultra-light brushless GPS drone. The most important additions of the 'Pro' edition are the onboard recording and the 2-axis gimbal that allows capturing smoother videos (at least it should). From the beginning, I can confess to you that even if it is marketed with a 4K camera, you should not expect DJI-like video quality from this drone.
Over time ZLL (also known as ZLRC) became a trendy drone brand. Their products are fairly priced and are packed with the latest technologies in the field. The ZLL SG108 PRO will be their second drone reviewed on FirstQuadcopter.
ZLL SG108 PRO YAN2 drone in-depth review
Disclosure: We received this quadcopter from RCGoing in order to test it and do an in-depth review. Although the product was offered for free, all opinions in this article remain our own, with no influence from our partners.
As usual, the package was sent with YunExpress, one of the most reliable shipping methods from China to Europe. Unwrapping the package, I happily found out that in addition to standard accessories (remote controller, flight battery, charging cable, and set of spare propellers) I received a second battery and a nice handbag.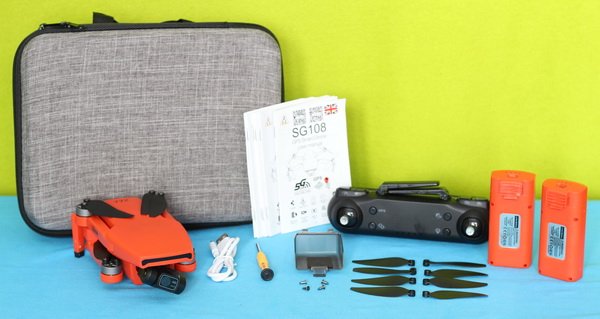 At a glance
For its price, the ZLRC SG108 looks really nice. It has a good built quality and isn't feeling like a cheap one. I like its orange color, it makes it visible both in the sky and on the ground. The camera is protected by a gimbal guard – remember to remove it prior to power on.
In addition to the optical flow sensor, there are two fake ultrasonic sensors on the belly of the aircraft. Four rubber pads improve ground clearance and cushions the landing.
With folded arms measures 13×8.3×5.7cm and weighs 276 grams. By comparison, the DJI MINI 2 measures 13.8×8.1×5.8 cm and weighs 249 grams. Despite that on the arm of the SG108 says '249G', its real take-off weight is 27g more. The weight difference could come from the fact that the original battery has 2200mAh and the one I received 3000mAh. The drone itself weights 186grams.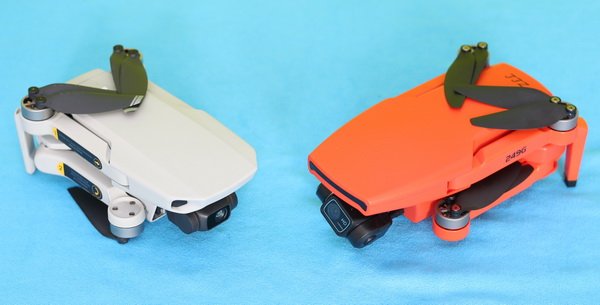 On the front it has a cool Knight Rider Kitt-style blue LED strip. Two additional LEDs on the back will help in orientation during night flights.
Price and availability
You can order the SG108PRO drone from here at a starting price of just $116.99. You can opt between orange and black colors. Genuine spare batteries (7.4V 2200mAh) are available for $23.91.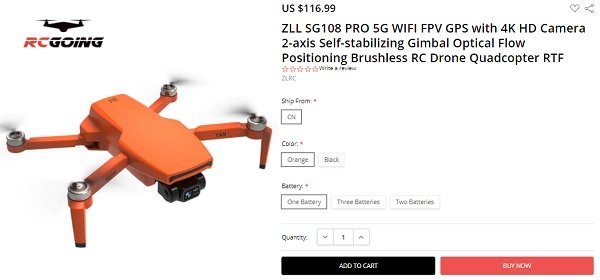 ZLL SG108 PRO key features
Backpack friendly folding design;
GPS + Optical flow positioning;
Powerful brushless motors;
4K UHD camera w/ 2-axis gimbal and 5GHz WIFI video transmission;
Intelligent flight modes (Smart follow, Flying around, and Custom Waypoint);
Up to 1000 meter flight range.
About 25 minutes of battery life.
In addition to the above-mentioned features, the ZLL SG108 Max has electronic image stabilization (EIS), which makes the footage even more cinematic-like.
Battery life
The ZLL SG108 PRO is powered by a 7.4V 3000mAh battery with a built-in charging circuit. During my hovering test, I got almost 21 minutes till the drone automatically landed. I received the first low battery warning after 16 minutes of hovering. The real test flight was 2 minutes shorter. Personally, I would never push the battery level below 7V during flights.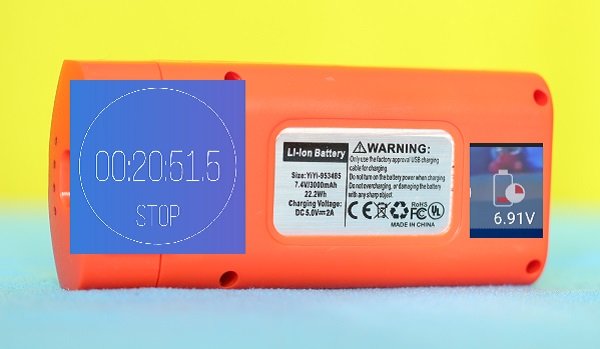 As charing time from empty to 100% takes about 3-4 hours, it is highly recommended to have at least one spare battery. The LI-ION pack has four charging level indicator LEDs, a micro USB charging port, and a power switch.
Remote controller – Flight range
The SG108 is packed with a super-compact entry-level remote controller with a built-in battery. I liked that the transmitter automatically powers on when you unfold the phone holder. Surprisingly one of the antennas looks true, it has a wire inside. The front panel has 4 buttons (Take-off/Landing, GPS switch, RTH, and Photo/Video) and 5 status LEDs. It has two shoulder buttons on each side.
In the last few years, I reviewed plenty of similar drones marketed with 1000, 2000, or even 5000 meters control distance. During my tests, none of them offered a range close to the advertised one. Generally, radio communications are widely influenced by buildings, vegetation, and other RF equipment. For example, the same drone can have twice the control range in a rural area than an urban one. Anyway, in most countries, you need to permanently maintain visual contact with the drone during the entire flight. Generally, in good weather conditions, a drone with the size of the SG108 PRO can be visible from 200-500meter.
Control range and FPV range are two different things. On paper, the ZLL Yan 2 has an 800-meters WIFI image transmission and 1000 meters of control distance. Using a Samsung A51 phone I got a stable WIFI connection from about 270 meters. The remote signal was lost and auto-RTH activated when I reached approximately 500 meters. The next day, I repeated the test but this time the phone was in my hand not mounted on the transmitter, the result was much better. I managed to fly at a distance of 952 meters with a usable FPV signal.
Mobile APP
The SG108 works with the same mobile APP as its bigger brother, the SG906 Pro 2. HFunPro is available for both Android and iOS phones.
From the main screen, you have access to the instruction manual, flight records, Calibration, and General settings (Language, Firmware upgrade, and Live-View settings).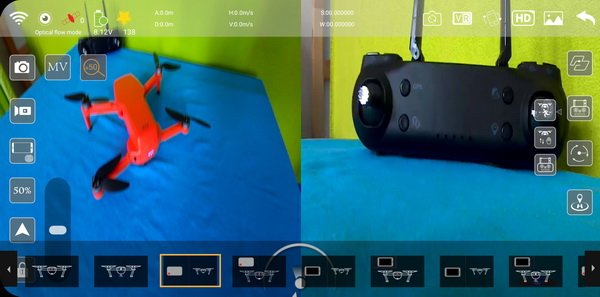 The main interface is very intuitive with important telemetry data at a glance (battery level, flight distance, and altitude). From the APP you have access to all the advanced flight modes (Waypoint, GPS Follow me, Orbit, and RTH). The APP allows toggling between the main camera and belly camera view.
Camera performance
As I previously mentioned, the 'Pro' edition of ZLRC SG108 has onboard recording which makes a huge difference compared to phone recording. Footages have not just higher quality, but more importantly, they are not affected by distance. Captured photos have a resolution of 4096X3072 pixels and videos 2048×1080@25fps (H264 compression).
The SG108PRO's 4K camera is installed on a 2-axis gimbal that allows image stabilization and remote camera angle adjustment. You can tilt the camera even upward if you want to take clouds photos.
Video quality isn't extraordinary, but what else you could expect from a 100 bucks drone. Colors sometimes are not too natural, also in certain light conditions, the whole sky is white. Jello effect is also present, especially in windy conditions.
Flight experience
Editor's ratings
Price/performance ratio

Design and build quality

Intelligent flight modes

Transmitter/Range

Camera

Battery life

Mobile APP
Verdict
Being over 250 grams could be a dealbreaker for most pilots. My test unit arrived with a 3000mAh battery, so it is possible that the original version with 2200mAh LIPO is not exceeding FAA's weight limit (.55lbm).
On paper, the SG108Pro has impressive specs, so no wonder why many could consider it as a worthy DJI MINI 2 alternative. But one again proved that you get for what you pay for. Flight characteristics, FPV performance, and camera quality are far behind DJI's lightest 4K drone.
The Good
Super stable (OFP + GPS stabilization);
Friendly priced;
On-board recording and 2-axis gimbal;
Included handbag;
Decent battery life (~20 minutes with 3000mAh battery).
The Bad
Not true 4K camera;
Jello effect quite often;
Poor wind resistance;
Laggy WIFI FPV.
The Ugly
Not 249 grams as it claims.
Test videos