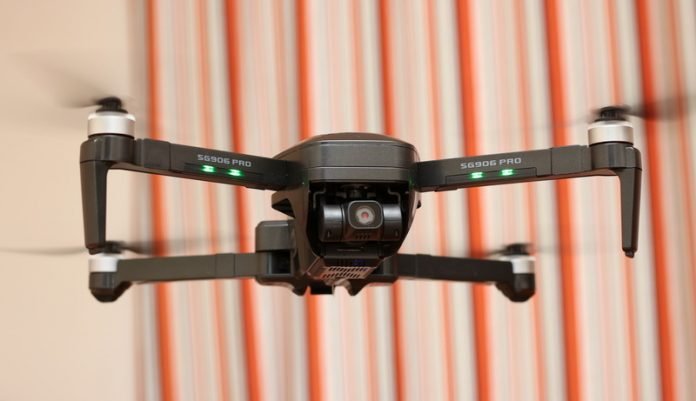 FirstQuadcopter was the first drone blog that published first rumors about the second generation 'Beast' drone and, now, it's time for an in-depth ZLRC SG906 Pro 2 review. We will test the maximum flight range, top battery life, GPS accuracy, failsafe feature, and camera performance.
Compared to its predecessor, the biggest improvement of the new SG906 Pro 2 is the upgraded gimbal. While the original Beast Pro had only a 2-axis gimbal, the new model gets a 3-axis one, just like all pro-grade drones. As the new hardware requires more power, the battery has been also upgraded from 2500mAh to 3400mAh – this brings you some extra flight time too. Here, I should mention, that there was also a non-Pro version without gimbal stabilization and onboard recording. So actually, this quadcopter should be named SG906 Pro 3.
ZLRC SG906 Pro 2 features
Compact size with foldable arms and brushless motors;
Double Satelite positioning system (GLONASS + GPS) + Optical flow positioning system;
Intelligent flight modes (Fail-safe RTH, Follow Surround, and Waypoint);
4K HDR camera with Sony IMX179 image sensor;
Pro-grade 3-axis mechanical stabilization with PTZ control;
WiFi real-time image transmission (5Ghz FPV);
Up to 1200 meters control range and 800 meters FPV range;
About 26 minutes of battery life.
ZLRC SG906 Beast Pro 2 in-depth review
Disclosure: I received this GPS drone from RCGoing, in order to test it and make a hands-on review. Although the product was offered for free, all opinions in this article remain my own and I was in no way influenced by my partner.
The SG906 Pro 2 review will be my second cooperation with RCG. They are mainly focused on commercializing Drones, FPV systems, RC cars, and RC parts.
I received the package on my 6th day of quarantine due to being in contact with a person confirmed to have COVID-19. In my country, every direct contact needs to stay isolated at their home for 14 days. Till now, I have no sign of Coronoavirus symptoms and hope it remains this way so I can get out soon to seriously test this little 'Beast'.
Together with the drone, I got the following accessories: transmitter, controller sticks, gimbal protector, flight battery, charging cable, and a full set of spare propellers. There are also included tons o instruction manuals in different languages. All stuff fits nicely into the included shoulder/ handbag.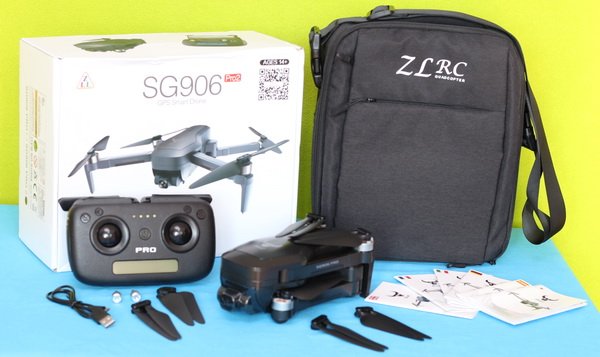 At a glance
The 'Pro-2' features exactly the same design as its predecessor. The only difference seems to be the upgraded gimbal, now it has 3 motors instead of just 2. With folded arms, the drone measures 17.4 x 8.4 x 7cm and weighs a bit more than half a kilo (564 grams with battery). As we are already used with the Beast series, there is a minotaur head logo on top of it.
On the belly of the aircraft, there is a tiny camera that serves as an optical flow sensor and the WiFI antenna. The power switch and charging level indicator LEDs are located on the LIPO pack.
In addition to the arm lights (green on the front and red on the rear), there is a LED bar on top of the drone which is hardly visible, except in case you are piloting from a helicopter above the drone :)
The battery pack is loaded from the tail and shows the charging level when it is inserted. I was happy to find a micro SD slot on the left side. As you could read from my JJRC X16 review, phone recording kills the chance of making decent quality aerial videos.
Overall built quality is good and for sure will not fall out in parts after the first flight, but to be honest, the plastic from which is made feels a bit cheapy. L3 Toys made a quite impressive SG906 Pro 2 endurance test – enjoy the video below, and please don't try this at home :)
Price & availability
Now, you can order this 4K drone with 13% off for $154.99 – this price includes a comfortable shoulder bag. At the checkout, you can also opt for 1 or 2 extra batteries. For the 'Fly More Combo' pack with 3 LIPO packs, you will need to pay $206.99 (52 backs more). Purchase tip: they are offering a 10% off promo code for new customers! Note: Prior to placing your order I suggest you verify the compatibility of your phone with this drone.
SG906 Pro 2 review: Transmitter
The Beast Pro 2 comes with the same nice entry-level transmitter as its predecessor's. Many users complain that, after several uses, the removable sticks start to fall out by themselves. The transmitter has two foldable dummy antennas which servers as a phone holder and it is powered by four pieces of AA batteries.
On the front panel, besides the usual controls sticks and power switch, there are 4 control buttons. From left to right, you have RTH, Speed\Calibration, Photo, and Video\GPS. By long-pressing (for 5 seconds) the 'Speed' button you can activate the gyroscope and gimbal level correction, by pressing for 5 seconds the 'Video' button you can turn On/Off GPS assisted flight mode.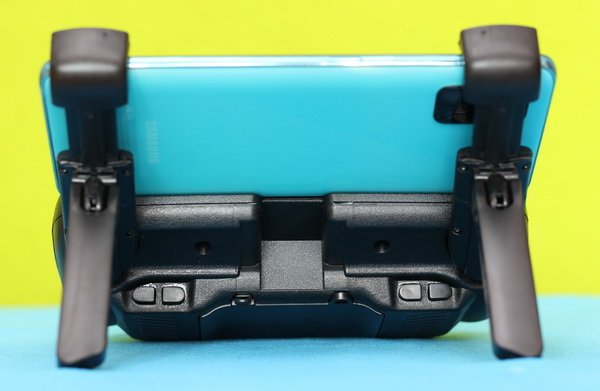 At the bottom of the controller, there is a handy status LCD screen that provides real-time telemetry data such as Flight distance, Altitude, RC&GPS signal strength, and RC&Drone battery level. The 'mode' icon actually shows the status of the aircraft, not the stick mode on which the transmitter works. Mode 0 means no connection with drone, Mode 1 – Altitude mode, and Mode 2 – GPS mode.
Control range
The SG906 Pro-2 quadcopter is advertised with a flight range of up to 1200 meters. The maximum flight distance is wildly affected by the land shape (graves\hills), vegetation, buildings, and, of course, RF noise. Based on my experience, in an urban area, due to the many WIFI devices and high buildings, the range you find on the technical specs is drastically reduced. During my tests around my house, I got a top range of 1120 meters.
SG906 Pro 2 review: Camera
As I previously mentioned, the first SG906 was capable only for mobile recording via FPV footage. Now, the SG906 Pro 2 has both options, onboard recording on micro SD card as well as on the mobile device. Here, I should underline that digital zoom (up to 50x) works only for phone recording.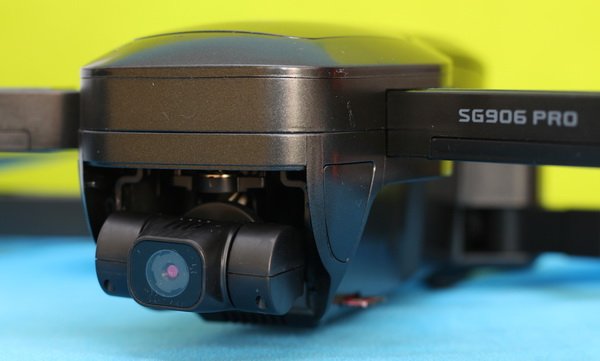 While it is advertised to be a '4K' camera, it's actually only a 2.5K camera. Videos are stored on a micro SD card with a resolution of 2048×1080@25fps and photos with 4096 x 3072 pixels. I would lie to say that image quality is perfectly stable. It has lots of jello and chaotic movements of the gimbal that makes the footage unusable for professional work. My Mavic Air 2 provides incomparable smoother videos.
Using the left shoulder buttons (Up/Down) you can change de camera's angle from straight ahead to ground view – allowing you to take the perfect shot.
FPV quality
In order to obtain the best possible performance, I suggest turning off software image stabilization and 4k correction (upscaling). You have two modes SD (1208 x 720) and HD (2048 x 1080). The live-view has a noticeable lag and quite choppy sometimes, but still flyable. Despite that is using a standard WiFi connection, I got a usable FPV signal from about 600 meters far from me.
SG906 Pro 2 review: Battery life
While the SG906 Pro was powered by a 7.4V/2800mAh battery, the new SG906 Pro 2 has a 7.6V/3400mah battery. Curiously, despite the higher capacity, the two LIPO packs have the same size and they are probably interchangeable too. The battery pack is charged via a micro USB port. For faster refueling, I suggest using a high current rated phone charger (minim 2A).
During my tests, I got an average of 21 minutes of battery life. This is 5 minutes less compared to the advertised one. In 'high' speed mode or windy conditions, the battery drains out even faster.
Hfun Pro APP
With a review score of just 2.9, the HfunPro can't be considered perfect. There are many random crashes\restart reports. It also has a bug around battery level reporting, which activates auto RTH too soon.
From the main screen, you have access to the instruction manual, flight records, Calibration, and General settings (Language, Firmware upgrade, and Live-View settings).
The top ribbon of the APP provides lots of telemetry data, including flight distance, cruising altitude, battery level, and signal strength. From the right ribbon, you have access to all the advanced flight modes (Waypoint, GPS Follow me, Orbit, and RTH).
SG906 Pro 2 review: Initial setup and Flight experience
Prior to power ON, make sure that you removed the gimbal protector and it is clear from obstruction. Next important thing is to perform gyro-calibration by following the steps from the HfunPro app. Firstly, you need to pick up the drone about 1 meter above the ground and rotate it anti-clockwise till the transmitter makes a beep. After that, you need to repeat the step with the drone's nose facing the ground. In case the drone is not stable enough after take-off, land, and repeat the steps.
To be sure that RTH works properly, you need to wait until the 'mode' indicator on the controller shows '2', which means that GPS positioning is active and working properly.
The ZLRC SG906 Beast Pro-2 has two-speed rates. On a 'high' rate, it is quite nimble and fun to fly it. Hovering stability is great even in moderate wind conditions. As a safety measurement, max flight altitude is limited to 120 meters.
More flight impressions will be added after I have completed my lockdown period.
Editor's ratings
Price/performance ratio

Design and build quality

Transmitter

Camera

Battery life
Verdict
To be honest, the SG906 Pro 2 drone isn't perfect. I had great expectations from the 3-axis gimbal, but it is not steady as it should be. Maybe a firmware upgrade will solve this issue.
Both, flight range and battery life are decent, you probably can't expect more in its price range. The manual, as well as the fail-safe (low battery & out of RC range) RTH feature, works properly. The aircraft returned autonomously to the take-off point within a circle of max 3 meters.
In conclusion, with $200 in your pocket, the ZLRC SG906 Pro 2 is a great option and probably the only one with a 3-axis gimbal.
Pros
Affordable GPS camera drone;
4K camera on 3-axis gimbal;
Toggling between main camera view and optical flow sensor camera;
Excellent wind resistance;
Decent flight time;
Cons
There is Jello effect, not the smoothest video quality;
Only 2048×1088@24fps video resolution;
Mediocre flight range.