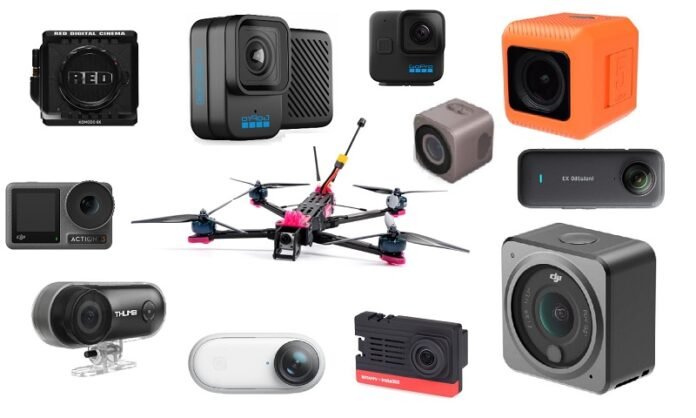 Hobbyists buy drones for all kinds of reasons, but the most common is that they want to get involved with aerial videography. FPV drones come with built-in cameras that are optimized to provide live-video feed with the lowest latency. If you want to capture cinematic-like 4K footage you will need a second action camera installed on top of your drone.
In this article, we collected the best cameras for drones from the most reputable brands such as GoPro, Insta360, DJI, Caddx, and RunCam. When you say 'Best camera for drones' you should have much more aspects in your mind than just video quality. The searching process should start with your budget and your drone's lifting capabilities. For example, a 2-3″ FPV quadcopter can safely lift a 15-60grams camera, but a GoPro 11 weighs twice as much. Professional digital cinema cameras such as Zcam and Red Komodo require X8 Cinelifter drones with more than 2kg payload.
Some of the best action camera brands started to modify their products to be more drone compliant by removing the non-essential parts such as the rugged case, display and battery. Similar projects were also made by drone enthusiasts named Naked cameras.
Top 15 best cameras for aerial videography
Since 2004 GoPro undoubtedly reigns supreme in the action camera market, but today we wanted to look beyond that at some other brands that may work better for certain drones. Our Top 15 Best Cameras cover all sized drones and budgets.
#
Model
Price
Weight
Video resolutions
Drone size
1
Z CAM E2-F8
$5,995
1090g + lens
8K 8192×3456@30fps
4K 3840×2160@60fps
X8 7″+
2
RED KOMODO
$5,995
1000g + lens
6K 6144×3240@40fps
4K 4096×2160@60fps
X8 7″+
3
Blackmagic 6K
$2,535
898g + lens
6K 6144×3456@50fps
4K 4096×2160@60fps
7″+
4
GoPro Hero 11
$399
153g
5K 5312×2988 @60fps
4K 4096×2160@120fps
5″+
5
GoPro 11 Mini
$299
133g
5K 5312×2988 @60fps
4K 4096×2160@120fps
4″+
6
Insta360 X3
$499
180g
5.7K@30ps
4K@60fps
5″+
7
GoPro Bones 10
$349
54g
5.3k@60fps
4K@120fps
3″+
8
DJI Action 3
$329
145g
4K@120fps
1080@240fps
5″+
9
Insta360 SMO 4K
$239
30g
4K@60fps
1080@200fps
2.5″+
10
DJI Action 2
$399
56g
4K@120fps
1080@240fps
3″+
11
RunCam Thumb Pro
$89
16g
4K@30fps
1080@60fps
2″+
12
Caddx Walnut
$129
63g
4K@60fps
1080@120fps
3″+
13
Insta360 GO 2
$299
26g
2560×1440@50fps
1920×1080@50fps
2.5″+
14
Caddx Peanut
$259
27g
2.5K@50fps
1080@50fps
2″+
15
Hawkeye Firefly X
$135
34g
4K@60fps
1080@60fps
2.5″
Best GoPro cameras for drones
The Hero 11 Black is the latest and greatest model of GoPro and one of the best action cameras for 5″ FPV drones of all time. 5.3K resolution at 60 frames per second, 1080p slow-motion at 240fps, 24.7-megapixel photos, 8×7 new larger image sensor, and gimbal-like HyperSmooth 5.0 video stabilization built into a compact rugged body.
For smaller drones, GoPro released this year a naked version of the GoPro 10, named 'Bones'. They removed both LCD screens and battery from the original GP10 and added a much lighter case. Weighting just 54grams, the GoPro Bones is perfect for 3″ and bigger FPV drones.
Surely, for all time favourite GoPro drone camera is the discontinued Session 5. With a cubic form factor (38x38x36mm) and a weight of just 73 grams quickly become a bestseller.
In October 2022, GoPro is scheduled to release the Hero 11 Mini which comes without any live-view screen making it a perfect companion for your drones.
Best cameras for drones from DJI
While GoPro is the king of action cameras, DJI is known to be the market leader in the drone industry. DJI's first action camera, the Osmo Action was followed by two iterations, Action 2 and Action 3.
The DJI Action 2 adopts a unique modular design that makes it a great camera for drones. Weighting just 56 grams, the Action 2 is great for 3″ and larger FPV quadcopters.
In September 2022, DJI released the third-generation Action 3 camera that follows the original Osmo Action's design in almost every detail. The DJI A3 has been optimized to work in extreme cold conditioning, so if you are planning to fly in the high mountains this is the camera that you need on top of your drone.
Best cameras for 360° aerials
Insta360, as the name might imply is focused on 360-degree action cameras. Their first drone dedicated 360° camera was released in May 2022. The Insta360 Sphere is a wearable 360° camera specially designed for the DJI Air 2 series.
The Insta360 GO2 is an excellent tiny camera that can be installed on almost any FPV drone. It measures just 52.9 x 23.6 x 20.7mm and weight 26.5g (0.93oz). Despite its small size, it features in-built FlowState stabilization.
In September 2022, Insta360 released the X3 360° camera that opens new frontiers for aerial videographers. The X3 camera provides a good-looking video that's sharp and clean. It can shoot 360-degree videos at 5.7K resolution at 30fps or 4K at 60fps. In single-lens mode, it captures 3.5K@60fps. Slow-motion is also available at 4K@120fps or 3K@180fps.
Best 'Naked' cameras for FPV drones
The first manufacturer-made 'naked' action camera for drones was put together by Insta360 in collaboration with BetaFPV. The Insta360 SMO 4K was followed by Hawkeye Firefly X Lite, GEPRC Naked GP8, Flywoo GP9/10 and GoPro Bones.
The biggest problem with the 'naked' approach is that they can't be used in standalone mode as they don't have a built-in battery. But when they lose more than 75% of the original weight this is understandable.
Best cheap cameras for drones
If you are on a tight budget without big expectations in terms of image quality you can look for the GoPro Session 5, RunCam 5, RunCam Thumb, and Caddx Orca cameras. They provide decent quality, some of them even 4K recording for a resonable price.
The RunCam Thumb Pro is a totally usable HD camera that is priced for only $99 and is very lightweight at only a little over 16g. The Thumb Pro is powered by the drone's main battery and can't be used as a traditional action camera.
The Caddx Walnut was announced In the fall of 2022 and promises 4K@60fps recording with Gyroflow stabilization in a compact body for only $129.
Best digital cinema cameras for CineLifters
If you want to capture Netflix-grade aerial videos, you will need to dig deep into your pocket. Profesianal digital video cameras have a starting price of $2500, and this is only for the camera body, you will also need to pay a couple of hundred dollars for the lens. A Siccario 8″ FPV Cinelifter drone with two batteries and a complete DJI FPV system will cost you around $3500.
The Siccario CineLifter with 2812-1100kv motors can carry video rigs with up to 2Kg weights. All three Z CAM E2-F8, RED KOMODO and Blackmagic 6K cameras can be installed on this flying beast.
Bottom line
We hope you've learned a bit about action and cinema cameras for drones. We tried to cover the most important brands of the industry helping you to find the perfect camera for your cinema drone. Remember to start with your budget, drone payload and your true needs!
If you still have questions that weren't covered just drop a comment below and we will try to bring you the right answer.