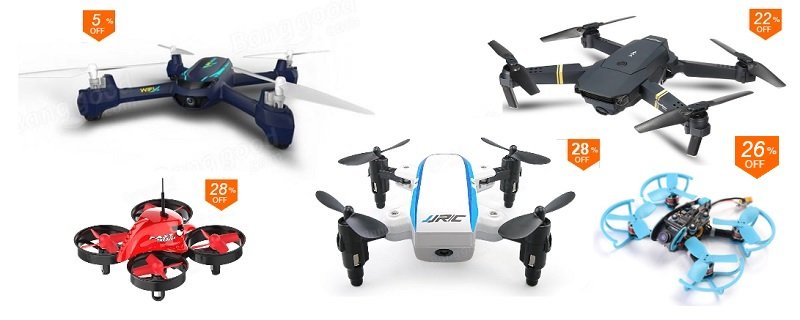 It's pretty amazing how quickly drones have progressed from expensive, but with limited functionalities, to affordable models with top-notch features. Whether you are a newbie or skilled FPV pilot you can find pretty nice quadcopters for less than 200 bucks.
What you decide to spend on your first drone should be determined by how much you are willing to lose. Based on my personal experience, it is very likely that newbies will crash their drone within the first flight ending at the trash can.
February's hottest drone deals
Like last month, for February I also selected 5 drone deals. From cheap entry-level ones to more expensive Diatone GT-R90 racing quadcopter.
Disclosure: Some of the links below are affiliate links, meaning, at no additional cost for you, I will earn a small commission if you click through and make an order.
1. Eachine E013, now only 35.99 with free shipping
This mini FPV drone is an excellent indoor trainer. Due to its large TinyWhoop alike ducted blade protectors, it can be safely flown even by newbie pilots. The Eachine E013 is also available in a bundle with VR006 FPV Goggles.
The frontal 1000TVL camera is paired with a 40CH, 25mW, 5.8G video transmitter.
Spare parts are widely available, which is very important for first-time pilots. View Deal
2. Eachine E58 drone, now only $54.99 with 2MP camera and 3x LIPOs
If you're in search of a cheap, but cool looking drone, the Eachine E58 is an excellent choice. It features a similar foldable design as the much more expensive DJI Mavic Pro. Thanks to the altitude-hold feature it is incredibly easy to use even for newbies.
Now, during February's sales promotion, you can find the "basic" version for only $38.99 (including free shipping). According to your needs, you can opt for a 0.3MP or 2MP camera. Both versions are available with 1, 2, or 3 flight batteries. VIEW DEAL
3. Hubsan H216A X4 DESIRE Pro with 6% off
H216A X4 DESIRE Pro is Hubsan's cheapest GPS drone with a full HD camera. Instead of a regular 7.4V LiPo battery, it is powered with a higher voltage one. According to the manufacturer's specs, with a fully charged battery, you can stay in the air for up to 12 minutes.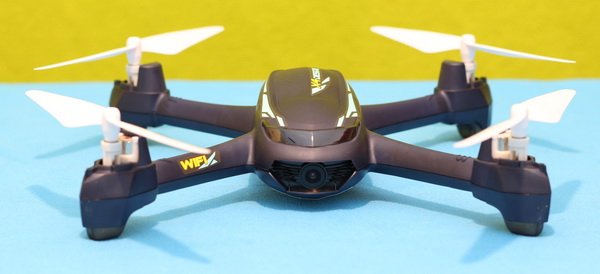 Even if, due to its friendly price-tag, Hubsan H216A can be considered rather an entry-level quadcopter, it comes with plenty of high-end features. To name some, this quadcopter includes Fail-safe RTH, GPS Positioning System, Orbit mode, Follow Me, etc.
4. JJRC H345, two drones for the price of one
JJR/C includes in the H345 package a white drone called JJI and a black one called JJII. In my opinion, the main purpose of this 1+1 package is that you can benefit of more play fun as you can play with the second drone while the first one is charging.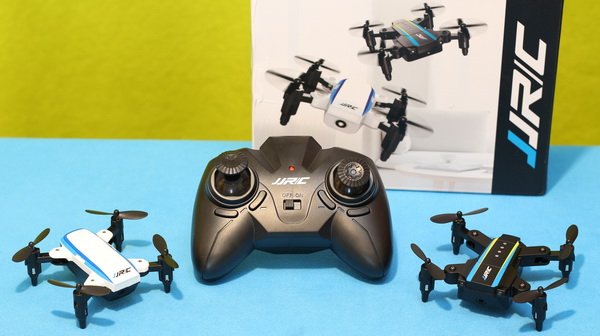 Both JJRC H345 drones are powered by the same type of 3.7V 200 mAh battery, which allows about 10 minutes of total playtime (5+5).
Note: package includes only one remote controller, so you can't play with both drones in the same time. VIEW DEAL
5. Diatone 2018 GT-R90 mini racing drone with 26% off
Surely, every guy would like to receive such Valentine's day gift like this Diatone drone, but unfortunately, it does not fit for anyone. Even if it's very small, requires serious piloting skills.
In front of the Diatone 2018 GT-R90 is located a 600TVL camera with a 130° field of view and a Sony CCD image sensor. In order to achieve good video reception in almost any flight condition, the G1 Sniper camera is paired with high power (up to 800mW) 5.8G VTX.
Drone discount coupons for February 2018
8% Coupon For Toys Hobbies and Robot Categories.
Use Coupon Promotion Period: 11 January 2018 – 30 March 2018. Coupon Code: Toysho
2. Coupon Price $53.99 For ISDT C4 8A Smart Drone Battery Charger
Use Coupon Promotion Period: 22 January 2018 – 30 June 2018. Coupon Code: ISDTC410
3. Up To 50% Off For RC Car & Boats Valentine's Day Promotion
Use coupon Promotion Period: 27 January 2018 – 28 February 2018
4. Extra 25% OFF MJX B2W Bugs 2W WiFi FPV Brushless
Use coupon Promotion Period: 19 January 2018 – 26 February 2018. Coupon Code: 975456
6. Coupon Price From $435.96 For DJI Spark RC Quadcopter. 16% Coupon For DJI Spark drone
Promotion Period: 03 January 2018 – 31 March 2018. Coupon Code: ed7d9c
More deals and coupons added on 11/2/2018!