Some of the best Black Friday drone deals are happening right now, with early sales at Banggood, GearBest, Aliexpress, and others. This year DJI will run their Black Friday sale between November 20 and 30th.
For sure, after smartphones and game consoles, drones are one of the most popular tech gadgets. Quadcopters evolved a lot in the last few years – now compact drones like the DJI Mini 2 and Mavic Air 2 are capable of GPS-assisted long-range flights and 4K video recording.
Hottest drone sales for Black Friday 2020
Like usually, we'll give you a bit of info about each drone we highlight, so you can see some specs at a glance before you click through the store and have to browse their detailed descriptions.
1. Eachine EX4 (upgraded) Black Friday coupon code
Type: Entry-level | Skills: Beginner | Camera: 4K with 3-axis gimbal | FPV: 5G WiFi| Flight time: 25 minutes | Features: GPS positioning | Range: 3KM | Package: RTF
The upgraded Eachine EX4 features 3Km control range, up to 25 minutes of battery life, and 4K camera with 3-axis mechanical image stabilization. By comparison, the first generation EX4 Aurora had only a 1080P camera and 1KM control range.
To be honest, it's not on the level of the DJI Mavic Air 2, but it certainly is a great way to start exploring having a good GPS-enabled drone.
With folded arms, the Eachine EX4 measures only 177x90x55mm and weighs about 435g which means that requires FAA registration.
Use coupon Promotion Period: Black Friday 2020. Coupon Code: BGEX420
2. FIMI X8 SE 2020 Black Friday sale (28% off)
Type: Cruising | Skills: Intermediate | Camera: 4K with 3-axis gimbal | FPV: 5G | Flight time: 35 minutes | Features: Dual-GPS, Vision Positioning and Smart track | Range: 8Km | Package: RTF
The 2020 edition of Xiaomi Fimi X8 has a battery life of up to 35min in perfect conditions. Its UHD camera is capable to record 4K (3840×2160) videos with 30 fps and FHD (1920×1080) with up to 60fps.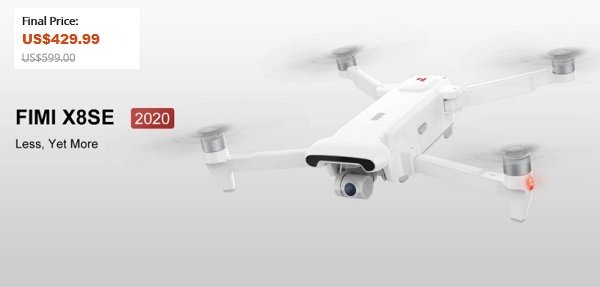 The Fimi X8SE has a plethora of intelligent flight modes including hyperlapse, panoramas, image tracking, and waypoints. Vloggers will appreciate the dronie, circle, rocket, and spiral creative modes. Using the "FIMI Navi" APP you can customize the X8SE's settings and display the camera view of the drone.
3. iFlight Nazgul5 racing quad (21% off)
Type: Racing FPV drone | Skills: Advanced | Camera: Caddx Ratel Camera | FPV: 600mW 5.8G | Flight time: depending on battery capacity | Features: GoPro compatible | Package: PNP or BNF
iFlight Nazgul 5 227mm 5-inch FPV racing drone comes in two power options. While the 4S edition has 2450KV motors, the more powerful 6S with 1700KV ones. Both, are equipped with SucceX-EF4 flight controller and 45A BLheli_S ESC.
The Nazgul5 is offered by iFlight in BNF (bind and fly) and PNP (plug and play) variants. The BNF version offers two different types of receiver, FrSky R-XSR, and FrSky XM+. Now, during the Black Friday sale, you can order it from Banggood with 21% off.
DJI Black Friday deals
This year, DJI starts their Black Friday sale on November 20. Till then they giveaway an awesome product every day for someone that subscribes to their newsletter. You can check the 'Price calendar' here.
Here are the top Black Friday discounts from DJI:
Mavic Mini – $359 ($399);
Phantom 4 Pro V2.0 $1,519 ($1,599);
Tello Boost Combo $135 ($164);
Osmo Action 199 ($369);
Osmo Pocket $249 ($369);
Osmo Mobile 3 USD $99 ($119);
RoboMaster S1 $449 ($549).
DJI gives for free a canvas bag for the first 700 customers who order a Mavic Mini or Mavic Air 2 drones. During Black Friday promotions they also give an extra 20% in DJI Credit for those who are recycling their old drones.
Other Black Friday drone deals, sales, discount coupons, and giveaways
Gearbest

Morange M1 Pro Smart gimbal for $379;
F11 4K PRO for $259.99;
$5 off for orders over $60 by Paypal.

GeekBuying

JJRC X17 for $169.99;
ZLRC SG907 Pro for $159.99;
MJX Bugs 20 for $179.99;
MJX B12 for $199.99;
CaddX Orca 4K for $99.99
Many other drones and accessories with up to 80% off.

TomTop

Feiyu Pocket gimbal for $159.99;
GD89 PRO 4K drone for $55.99,
Use 'TTPP5OFF code' for $5 off on orders over $30 by PayPal.

Makerfire

Use 'BFK20' to get up to 20% off for selected products.

Insta360

Save up to 72% on cameras and accessories.

HGLRC

You can get a free spare frame for any drones you purchase;
Buy 4 motors and get one extra for free;
For orders over $119, you get free shipping + knitted cap + 4* LEDs;
For orders over $119, you get free shipping + knitted cap + Zeus Nano VTX + LR antenna.
#BlackFriday2020