In a nutshell the VIFLY Cam Switcher is a tiny device which allows you to toggle between two video inputs remotely from your transmitter. For example, in addition to the frontal camera you will be able to install a second camera on rear of the belly. If you search on YouTube for "CheaterKwad" you will find some really cool videos using two FPV cameras.
The VIFLY FPV Camera Switcher is compatible with most common RC transmission protocols. You can use it with DSMX, iBUS, PWM and SBUS radio receivers. Thanks to its "advanced program" it can communicate directly with the receiver instead of flight controller, like other similar devices.
VIFLY FPV Camera Switcher highlights
Tiny and Lightweight (only 9 x 18mm and ~0.5 g);
Two camera inputs;
Fast Camera Switching (Connecting Receiver Directly);
Compatible with Racing Quads and Airplanes;
Easy Setup and no BetaFlight Configuration;
DSMX, iBUS, PWM and SBUS signal compatible;
Wide range on input voltage (4.2 ~ 25V).
VIFLY FPV Camera Switcher review
Disclosure: I received this two-way camera switcher as part of a product review collaboration with ViFLY. Although the product was offered free of charge, all opinions in this review remain my own and I was in no way influenced by the partner.
VIFLY Cam Switcher comes in a simple anti-static bag along with instruction manual, some wires (3 x 10cm ) and a transparent heat-shrink. The tiny board measures about 9 x 18 mm and weights less than one gram.
In order to keep it light, the board has lots of soldering pads instead of connectors. One side has video-out (for VTX) and power-in and opposite side video-in and power-out  (Camera 1 and Camera 2). There are two additional pads for remote control (DSMX/iBUS/PWM and SBUS). Another 3 smaller pads allow to set the radio protocol. By default it comes all open, which means SBUS mode. In the picture bellow are shown how to short (solder together) the pads according to the desired working mode.
Before soldering, beware of:
Power pads on both ends of the board are interconnected. This means that cameras are powered directly from the main power source. Make sure you are using an input voltage that your camera can take safely;
There are different pads for DSMX/iBUS/PWM and SBUS receivers;
The camera switcher is in SBUS mode by default. If you want to use a different protocol you need to short the corresponding pads;
SBUS, DSMX and iBUS protocols will use channel 7;
For C1 camera input you need to set 0.9-1.4ms on transmitter, respectively 1.6-2.1ms for C2.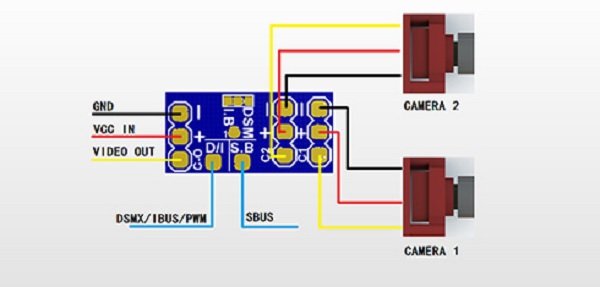 Initial test
Before a real application (drone installation) I decided to do a "labor" test using a volt-meter and my D6 Elite charger which is capable generate SBUS and PWM signals.
Firstly, I connected the VIFLY Cam Switcher to the charger's servo port (-+signal) than powered the charger with a 4S LIPO battery. No LED light on the camera switcher board, so you don't know if its powered or not. Using the volt meter I tested the power input, it received 5 Volts, same as the camera out pads.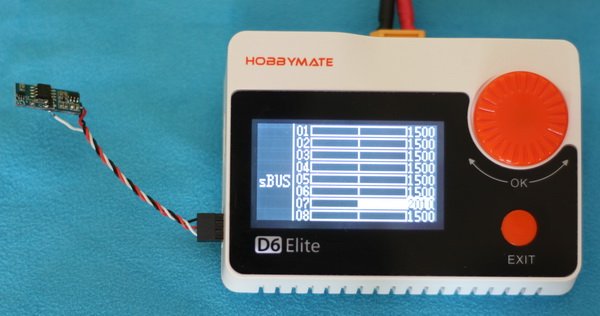 Secondly, I put the volt-meter in buzzer mode (short-circuit test), and checked the video inputs: camera 1 – buzzed up, camera 2 – silent. I changed channel 7's value from 1000 to 2010 resulting reversed results: camera 1 – silent, camera  2 – buzz. Practically it acted like a railroad switch, the video-out was toggled between camera 1 and camera 2.
Price & Availability
This FPV camera remote switcher can be found on the ViFly's website here for only $US 6.99. In case you have a Banggood account, you can also order it from there. If you are interested to find more about other ViFLY products you should check our Drone Finder Buzzer review and DJI battery charger review.
Editor's ratings
Price/value ratio

Features

Compatiblity
Summary
The VIFLY Cam Switcher is a simple but effective device which allows to use two FPV cameras on your aircraft (wing/plane/drone) – with a flip of a switch, you can enjoy different views. Being compatible with wide range of radio protocols, it can be controlled by most popular transmitters.
During implementation you should be aware that camera receives same voltage as the switcher.
Pro's
Very affordable, only $7;
Compact and lightweight;
Compatible with most RC radio protocols;
Con's
Both cameras are always powered;
No internal BEC (same voltage on input as output).