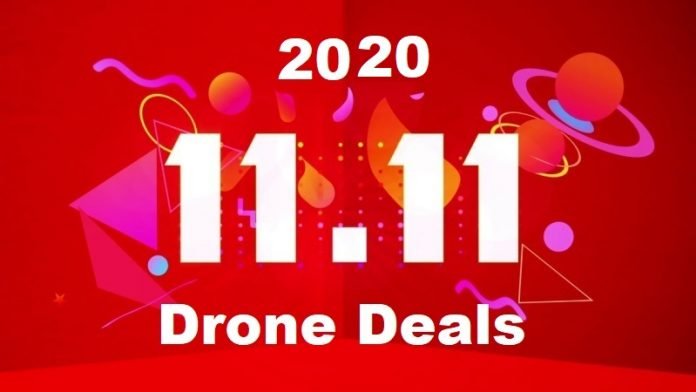 The final countdown for 11.11 drone sales has officially started. There are only 5 days till all the good drone deals become online. In the coming days, we expect to see noteworthy drone deals from reputable retailers like Aliexpress, Banggood, GeekBuying, Gearbest, and other Chinese online stores. Asian's Double Eleven probably the world's third most expected day for shopping enthusiasts, of course, after Black Friday and Cyber Monday.
Originally November 11 was an entertaining festival for young Chinese people to celebrate that they were proud to be single. As the timing was perfect for Christmas gift acquisitions, shortly 11.11 become a true shopping event.
Hottest 11.11.2020 drone sales
On this page, you can expect to find bargains on all kinds of RC quadcopters, from versatile DJI drones to super-fast FPV racing quads. There are also some huge savings on drone parts and accessories such as bags, remote controllers, batteries, flight controller, ESC board, VTX, and FPV camera.
1. FIMI X8 SE 2020 Double 11 sale (only $359 for 3 days)
Type: Cruising | Skills: Intermediate | Camera: 4K with 3-axis gimbal | FPV: 5G | Flight time: 35 minutes | Features: Dual-GPS, Vision Positioning and Smart track | Range: 8Km | Package: RTF
The Xiaomi Fimi X8 SE 2020 is an excellent looking foldable drone which is considered one of the best Mavic Air 2 alternative. It features a UHD camera with 3-axis gimbal stabilization, 33 minutes of battery life, and up to 8KM control range. Its camera allows capturing 4K HDR videos using H.265/HEVC compression.
It has lots of intelligent flight modes including timelapse, panorama, image tracking, and waypoints. Vloggers will appreciate the dronie, circle, rocket, and spiral creative modes. Weighing more than 700 grams it requires FAA registration. Check 11.11 deal
2. ZLRC SG906 Pro 2 drone for only 144.49 during 11.11 sales
Type: Cruising | Skills: Intermediate | Camera: 4K with 3-axis gimbal | FPV: 5G WiFi| Flight time: 28 minutes | Features: GPS and OFP pozitioning| Range: 800 meters | Package: RTF
During the 11.11 shopping festival, you can get the SG906 Pro 2 Beast drone for only $144.49 using this 'BGRCSGPRO2' coupon code. This drone is perfect for a newbie to intermediate pilots. It comes with up to 28 minutes of flight time and about 800 meters of control range. Thanks to the dual positioning system (GPS+OF) it is super stable and easy to control.
Its 3-axis stabilized 4K camera is capable to record 2048*1080 videos with 25fps and of taking still photos with a resolution of 4096*3072 pixels.
3. BetaFPV Beta85X brushless Whoop (15% discount code)
Type: Micro FPV drone | Skills: Intermediate | Camera: Caddx Nebula Nano | FPV: HD Digital | Flight time: depending on battery capacity | Features: Whoop style blade protectors | Package: BNF
As winter is about to blow-up any outdoor fun, the BetaFPV Beta85X is just perfect for indoor practice around the Christmas tree. For an ultimate first-person view (FPV) experience, HD edition comes with DJI FPV goggles compatible Caddx Vista digital transmitter.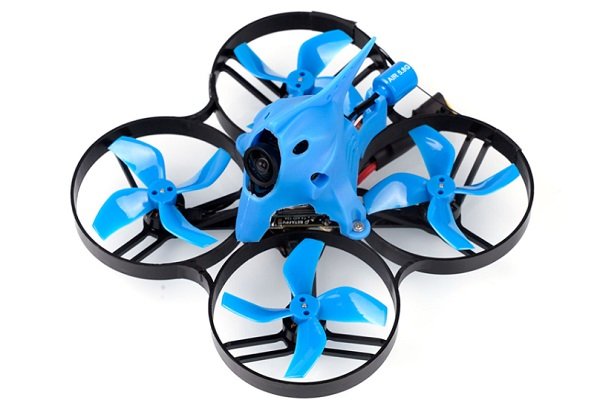 Its 85mm size frame is made from the same kind of flexible and crash-resistant plastic as similar Tiny Whoops. The blue canopy provides protection for all electronic parts including the Caddx Nebula Nano camera. Powered with a 3s/450mAh battery you can have about 4-5 minutes of playtime.
Use coupon Promotion Period: 4 – 12 November 2020. Coupon Code: BG85XHD
4. iFlight Cidora SL5 V2.1 HD (11% discount code)
Type: Racing FPV drone | Skills: Intermediate | Camera: DJI FPV cam | FPV: HD Digital | Flight time: depending on battery capacity | Features: GoPro compatible | Package: BNF
The iFlight Cidora SL5 V2 is a 217mm size FPV race drone with 5″ propellers. The HD digital version comes onboard DJI Air Unit. According to your existing transmitter, you can opt for FrSky R-XSR, FrSky XM+, or TBS Crossfire Nano RX radio receiver.
Like most similar racing quads, the Cidora SL5 also has two power versions. While 4S version has 2450KV motors, the more powerful 6s edition comes with 1800KV motors. Both variants can be equipped with a full-size GoPro camera.
Use coupon Promotion Period: 4 – 30 November 2020. Coupon Code: BGZINOPRO
5. Eachine E58 for only $49.99 (9% off during 11.11 sales)
Type: Learn-to-Fly | Skills: Beginner | Camera: 0.3/2MP | FPV: WiFi | Flight time: 7-9 minutes | Features: Foldable design, Altitude hold, Headless flying, Multiple flight speed rates & RTH | Package: RTF
Eachine E58 was firstly introduced in 2017, science then it becomes one of the best selling toy drones under $50. It features Mavic like foldable design, about 7-9 minutes of flight time, and a decent control range.
The Eachine E58 Emotion is available with 4 types of camera versions. You opt for 0.3MP, 720P, 720P-Japan version, and 1080P. All variants can be purchased with 1, 2, or 3 flight batteries. You can also opt for a hand case which allows easy transportation.
In case you are interested in this nice entry-level drone, currently is on Flash Sale at Banngood here.
More 11.11 discount codes
Eachine brand

discount code 'BG11EACHINE'

Eachine EX5

discount code 'BGRCEX595' and 'BGEX5E009'
S66 Mini Pocket Drone discount code 'BGS6611'

MJX B20 EIS

discount code 'MJXB20EIS'

Flywoo Explorer LR

drone discount code 'BGLRE8'
FIMI X8 SE 2020 battery discount code 'BGX8SEBRQ'
Eachine EV300O FPV goggles discount code 'BGCN425'
Happy 11.11 shopping!