Popular quadcopter reviews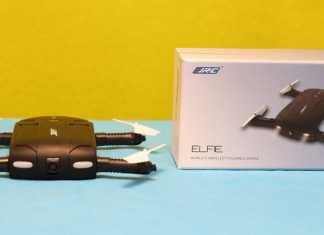 JJRC H37 - the cheapest smartphone controlled foldable "selfie drone" Usually selfie drones like this JJRC H37 Elfie are very expensive gadgets. Although the design of...
Eachine Aurora100 FPV quadcopter with F3 flight controller It looks like 2017 will be a very busy year for Eachine because they just announced another new...
LATEST ARTICLES
3-leaf propellers on Eachine QX70 (aka Tiny Whoop) Having some free time, I decided to mod my QX70 by replacing the stock props with Hubsan 3-leaf propellers. I got this mini FPV drone about a month ago but, due to its limited flight time and noise operation, I kept it in the box till now. Doing some research, I found out that these shortcomings...
Kaideng K90 aka Micro PANTONMA Following the success of the K80, Kaideng announced a much smaller model, called K90 Micro Pantonma. In terms of design and features, the Kaideng PANTONMA K90 is very similar to its bigger brother. Like its predecessor, the K90's camera allows to record videos (1080x720) as well as capture still photos. Due to its small size and included propeller protectors, the KD...
J.ME Follow Me selfie drone from Feima Robotics Feima Robotics, an unknown multi-rotor manufacturer, just announced their first selfie drone, called J.Me Follow Me. Like most of the selfie drones, the J.Me comes without a physical remote control. The aircraft can be controlled in three ways trough your smartphone. While I'm already accustomed with virtual sticks and gyro control, I would be interested to test the voice...
RunCam Swift Mini camera for FPV racing quadcopters Although the RunCam Swift Mini is much smaller than its predecessor, it has the same weight (12g). In my opinion RC should also focus to reduce the weight of their FPV cameras. Currently there are on the market AIO VTX cameras that weight only 4 grams. Thanks to the wide input voltage range, this RC...
Huanqi H899C drone with headless mode and GPS return to home Surely, biggest advantage of this Huanqi H899C over the Syma X8 series is the GPS assisted return to home. When the flight battery is near empty, the quadcopter will automatically return to the take-off point. While the H899C drone comes without a camera, it is promoted that is capable to carry GoPro...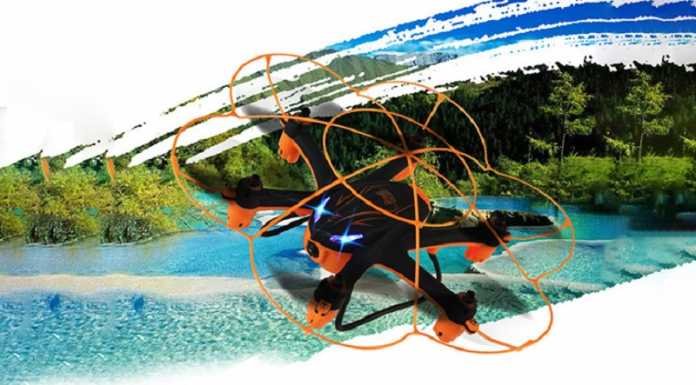 WL Toys Q383A hexa-copter with protective frame and 5.8G FPV camera Recently WLToys announced two new hexa-copters, the Q383 with WiFi FPV and the Q383A with WiFi FPV. Basically these two models are identical excepting the onboard camera and the remote controller. While the WLtoys Q383A comes with a nice combo FPV transmitter, the Q383 comes with a cheap plastic "toy-ish" radio. Thanks to the...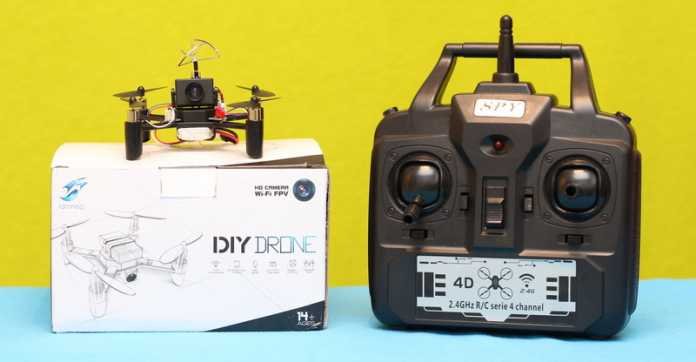 DM002 - Cheap DIY quadcopter with FPV camera Recently, I received the DM002 quadcopter for tests, a Chinese RC toy quite entertaining with an attractive price. I assembled it and played around with it and now it is time to write my review, of course at the end of which I will draw the final conclusions. As I previously mentioned many times, the fact that a drone comes in parts should not scare...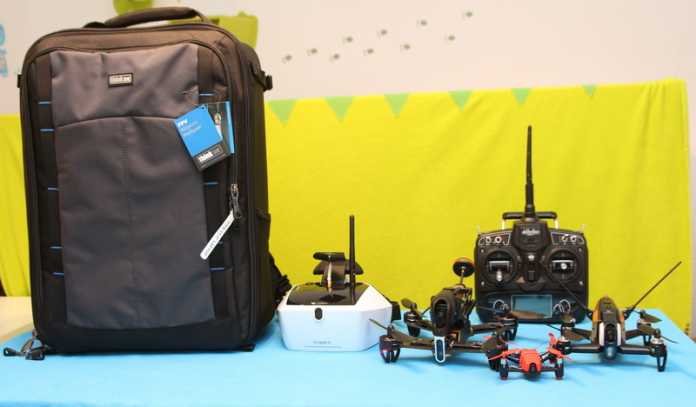 FPV Airport Helipak backpack by Think Thank Photo In my opinion, the most important goal of the FPV backpack manufactures is to design a product that fits any racing quadcopter. Nevertheless, if you want to fit inside more than one drone, the challenge is even bigger. At first impression the FPV Airport Helipak by ThinkThank is not just very customizable but also comfortable. Thanks to the wide range of products, Think Thank Photo (TTP) became over the...
Mixed reality Star Wars Jedi training quadcopter Michael Moon and Stephen Dodds at Juuk Inc., are making the first real-life Star Wars Jedi Training Drone. Their smart quadcopter uses computer vision and artificial intelligence to locate, track, and decide when to shoot the player. The drone even knows when you blocked the light beam with the light saber! They removed the remote...
Permeants ASUAV RS220 racing quadcopter with FPV camera As we are in late winter, it is time to switch from indoor drones to outdoor FPV racing drones like this Awesome ASUAV RS220. When it comes to first-time pilots, speed is not everything, they need durable drones. Based on my experience, carbon-fiber frames has better chance to survive nasty crashes than nylon ones. Thanks...